1958… when Sotheby's took a decisive leap into the future
[27/04/2021]

In the era of NFTs and the crypto-monetization of the art market, Artprice looks back to the 1950s when the first wave of auction modernization was largely initiated by Sotheby's bold and dynamic chairman, Peter Wilson.

It has often been said that the modern art market was born at 9:30 pm on 15 October 1958, a time and date which corresponds to a sale that ended with a total of almost $20.2 million in today's money, an impressive record at that time. On that evening, the traditional way of auctioning artworks was transformed into a glamorous and 'modern' event. Peter Wilson, Sotheby's newly appointed chairman, literally stage-managed the sale of seven paintings from the Jakob Goldschmidt collection. It was not only the first evening sale, but also the first "Gala sale", i.e. by invitation only, with ball gowns for the ladies and dinner jackets for the men. Moreover, the television cameras, also newly invited, focused on socialites and movie stars. All-in all, that sale forever changed the way art would be sold, marketed and desired by a clientele already well on the way to globalization. We take a look back at the sales that made both Sotheby's and London hubs of the global art market.
The William Weinberg collection (1957), the first experiment…
To understand the impact of the Goldschmidt sale, we need to go back a few years. In 1955, Sotheby's became the first international auction house after opening an office in New York to best serve American collectors who were beginning to represent a significant share of demand (later, in 1964, Sotheby's strengthened its US position by acquiring a majority stake in America's biggest Fine Art auction house, Parke-Bernet). In 1957, Sotheby's obtained a consignment for the sale of a collection belonging to William Weinberg, an American banker of Dutch origin who was a passionate collector of works by the French Impressionists. Having recently opened an "Impressionist & Modern Art Department", the company organized a first sale exclusively devoted to Impressionist works. In reality, this was Peter Wilson's first 'test' sale.
Quick response…
To get the consignments for this first major sale, Wilson responded more quickly than his competitors. When Weinberg's heirs made contact with the three biggest auction houses on the market, Parke-Bernet returned a proposal based on a greedy commission of 23.5%. Christie's also replied, but the reply was sent by post and arrived far too late! Peter Wilson, on the other hand, grabbed his phone the day he received the Weinberg request and offered an 8% commission rate on behalf of Sotheby's. At that time, the UK enjoyed an auction tax exemption, which gave it a considerable advantage over New York and Paris. This is one of the reasons the Impressionist collection of Jakob Goldschmidt (an American like William Weinberg) was sold a year later in London.
Publicity and fluidity
The prestige of the Weinberg collection was above all based on 10 paintings by VAN GOGH. With his inimitable flair, Peter Wilson persuaded Sotheby's Board of Directors to hire the J. Walter Thompson advertising agency to handle the sale's media coverage. A boon for the public relations people who worked on the case, the Van Gogh myth had just received massive exposure with the release, in 1956, of a film about his life, "Lust for Life", starring Kirk Douglas. The agency used images from the film and focused on paintings highlighted in the film, and, in an unprecedented move, sent an invitation to Queen Elizabeth II who, to everyone's surprise, turned up at the exhibition. Rumor, skillfully spread by JWT, had it that Her Majesty focused particularly on a pastel by Edgar DEGAS, Le jockey blessé… Was she thinking of placing a bid? In any case, it was a super media buzz (as such things would later become known)! Wilson also inaugurated a system that he would reuse later: he had televisions installed in each auction room and additional telephone links, in order to relay the bids.
The Goldschmidt Collection (1958)… the master stroke
Having emigrated to the United States to flee the Nazi regime, Jakob Goldschmidt, (1882-1955) – a banker by profession – did not stop doing what he did previously in Germany: collecting late 19th century French art. When Sotheby's won the sale of his collection, it included important paintings by Édouard MANET, Paul CÉZANNE, Vincent VAN GOGH and Pierre-Auguste RENOIR. To mark the occasion, Peter Wilson developed a whole strategy which had only one goal: to popularize auctions. Once again he turned to PR professionals to take care of the sale's promotion and journalists from 23 different countries started submitting competing predictions on what auction records might be struck at the sale. Access to the planned evening sale was only possible by invitation and, among the lucky few were of course photographers who strafed Kirk Douglas (surely inclined to buy a Van Gogh), Anthony Quinn, who played Gauguin in "Lust for Life", the ballerina Margot Fonteyn (beautiful in an off-the-shoulder eau-de-nil dress), novelist Somerset Maugham and Lady Churchill. All these beautiful people in furs and high heels flocked to the entrance of Sotheby's on New Bond Street. The police were there to contain the curious. This is how a simple auction was transformed into a 'gala evening', like a theater or opera premiere.
Prices: then and now
The 1957 Weinberg sale was a huge success taking a total of over £326,520 ($914,000) and Renoir's stunning Jeune femme au corsage rouge fetched the equivalent of $22,000. Thirty-three years later, the same canvas returned to auction, at Sotheby's NY this time, where it fetched more than $5.7 million. It was 1980 and the Japanese businessman Morishita Yasumichi was buying Impressionist paintings at high prices through his company Aska International…
Moving on to the famous 1958 sale of the Goldschmidt collection… Peter Wilson was in charge of dispersing three works Manet, two by Cézanne, a Van Gogh and an exceptional quality Renoir, and he completed their sale in just 21 minutes. Sold for the equivalent of $91,000, Portrait de Manet par lui-même, en buste (Manet à la palette) is now worth more than $30 million.
Apart from Music at the Tuileries (1862) and Le bal de l'Opéra (1873-1874), where the painter includes himself in the depicted crowds, there are only two real self-portraits by Edouard Manet. His à la palette portrait is one of these. Given the extraordinary energy and freedom with which it is painted, his wife Suzanne considered it a simple sketch, so she sold it to Hermann Paechter, the Berlin art dealer, in 1899 for the modest sum of 1,000 old francs, (approximately $4,700 today). The portrait changed hands two more times before entering the Goldschmidt collection. That famous evening in 1958, the painting sold for an amount equivalent to $1.68 million in today's money, to a certain Mr. Summers, who turned out to be John Loeb, the businessman and great American collector. Twenty years later, in May 1997, when Christie's organized the sale of the Frances and John Loeb collection, the same painting changed hands for $18.7 million! That's about 205 times more than at the Sotheby's 1958 Goldschmidt sale… The Impressionists were at the peak of their market. On 22 June 2010, the work was lot number 9 in an Impressionist & Modern Art sale at Sotheby's London where it reached $33.2 million, almost doubling its price in ten years.
Manet's second painting in the 1958 sale was a portrait titled La promenade which reached $2.3 million (in present value) in an already electric atmosphere. The third Manet lot, La rue Mosnier aux drapeaux, 1878 crossed the £100,000 threshold selling for what would be $3 million in today's money, a record for a Modern painting! Then, the VAN GOGH broke the record set just minutes before by selling for $3.4 million to the American gallery Rosenberg & Stiebel. Lot 5, Paul CÉZANNE's still life, fetched the present day equivalent of $2.33 million, acquired by the Knoedler gallery.
But there was still lot 6, Cezanne's Garçon au Gilet Rouge which set off an exciting duel between George Keller of the Carstairs Gallery and Roland Balay from Knoedler. Keller, who buys on behalf of American collector Paul Mellon, finally won with a bid equivalent to a present value of $5.7 million, a staggering sum for the time. "No further bids?" asks Peter Wilson with typically British phlegm in front of an audience on the verge of hysteria. For the third time in the space of four lots, the world record for an artwork at auction had been broken. The Mellon donated their collection, including the Boy in the Red Vest, to the National Gallery of Washington in 1995. The most expensive portrait by the 'father of modern art' remains his portrait of Madame Cézanne au fauteuil jaune ($23 million in 1997 at Christie's).
Peter Wilson, the Maestro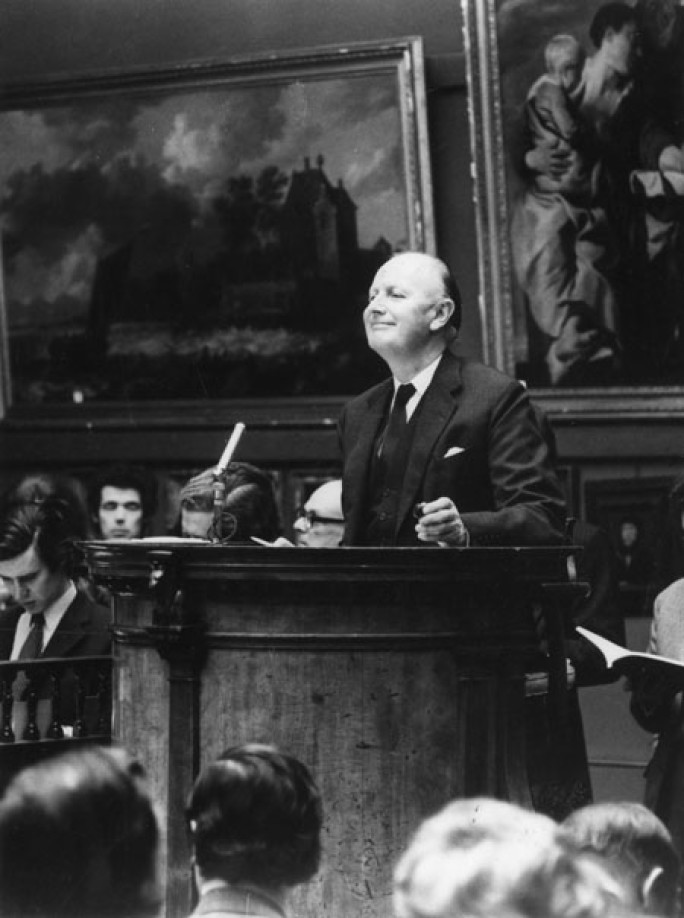 "A picture is more interesting if someone has paid a lot of money for it, don't you think?" Peter Wilson in the New Yorker, 1966.
Peter Wilson was the emblematic chairman of Sotheby's from 1958 to 1980. He became known as the "first auctioneer of the jet set". Tall, sleek, baby-faced, PCW – as the house's employees called him – was an enigma… an impulsive risk-taker combining a dignified appearance and a mischievous personality.
An aristocrat educated at Eton, Wilson was atypical. After average results at Oxford, he joined Sotheby's where he remained all his life with the exception of a brief period in postal intelligence during the WWII. At Sotheby's, he worked in a narrow office next to the auction room, preferring to be closer to the action and he took charge of the technological modernization of the venerable auction house. When he took over as chairman of Sotheby's, he introduced real-time currency converters and took satellite telephone calls during auctions. In addition to making auctions the latest fashionable event in town, he also systematized the publication of estimates and experimented with collecting sales statistics.
His innate sense of marketing developed further after the Goldschmidt sale: in New York, in 1967, he organized the sale of the treasure from Spanish ships sunk off Florida in 1715. It wasn't just an exhibition that preceded the sale, but a total reconstruction of the captain's cabin… with a live parrot! At the actual sale, Wilson only allowed children to bid and responded "to you Miss" and "against you Sir" to the young pirates who raised their hands!
Peter Wilson transformed Sotheby's from a low-key auction house, known for its expertise in books, to a leading international Fine Art vendor. He was instrumental in the success of London as an art market hub to the detriment of its rival Paris. The Goldschmidt sale is recognized as the most successful auction of its era. It steered the tastes of collectors for many years to come, during which the best Impressionist masterpieces were eagerly acquired by collectors all over the world for multi-million dollar sums.