After breathtaking price rises at the end of the nineties, can Surrealism still inspire dreams? With another outstanding auction at Christie's due to take place on 3 February and André Breton's personal collection coming up for sale in April, Artprice brings you an update of the latest market trends.
Though lacking a common approach, the Surrealists were united in their inspirations and spirit of revolt. Revolutionary in its day and now appealing to collectors of contemporary art, the purpose of which is often to shock, the movement has been undergoing a revival since 1997. The techniques and themes adopted by the Surrealists, who were pioneers in their day, seem to offer what current art buyers are looking for.
The market for Surrealist art was, however, slow to develop. It was not until 1989 that Christie's organised its first auction dedicated to the movement. But, apart from a slight slump in 2001, the movement has been booming since 1997: prices have surged by 77% in the past six years, after rises of less than 70% between 1992 and 1997. These days hammer prices generally beat even the most optimistic estimates and in the past year, 80% of Surrealist works have found a buyer. Since 1999, interest in this market, which is dominated by the US (two thirds of total sales), has also been stimulated by a number of high-profile international events and exhibitions. Last year saw a major Surrealism retrospective at Paris' George Pompidou Centre and a high-profile exhibition at New York's Metropolitan Museum of Art. These events were not without impact on prices at public auction: 2002 saw an increase of 12.6% in the average price of Surrealist art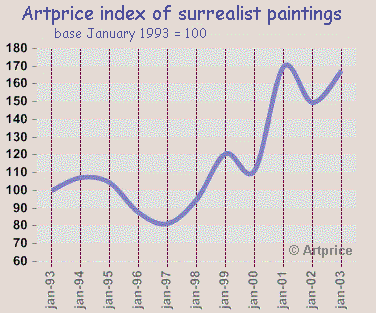 Certain Surrealist artists saw spectacular rises. Works by René MAGRITTE, Paul DELVAUX, and Victor BRAUNER —all very safe investments—rocketed, led by Magritte's L'empire des lumières, which sold for an impressive record USD11.5 million on 7 May 2002, far outstripping its estimate of USD 5-7 million. In all, since 1997, Magritte has shot up by almost 170%, making the Belgian master, alongside Man Ray, the most profitable Surrealist artist of the past six years. Apart from Pierre MOLINIER and Joan Miro, all Surrealists increased in value last year. Even Man Ray's photographic works continue to rise, despite the 1998-1999 scandal when numerous reprints were found to have been sold as originals. Bolstered by this widespread enthusiasm for the movement, Giacometti, René MAGRITTE, Max ERNST, Salvador DALI, Paul DELVAUX, Miro and Tanguy, amongst others, all moved up into the top 100 artists by turnover in 2002.
On 3 February this year Christie's London will hold another outstanding sale of Surrealist art, including a magnificent selection of Magritte paintings. Of the nine Magritte canvases coming under the hammer, the highlight is Les barricades mystérieuses (estimate USD2.6-3.5, last sold at auction in 1991 for USD1.9 million). Max Ernst is represented at the sale by five very fine works, including Convolvulus! Convolvulus! (1941) and Epiphanie (1940), two works from the series of landscapes populated by mutant figures that he began in Europe and completed in the US. With an estimate of USD1.5-1.9 million, Epiphanie could become the most expensive of Max Ernst's works to come under the hammer.
Some collectors, however, may choose to await the sale of the year — the auction of more than 5,000 lots from the personal collection of the "Pope" of Surrealism, André Breton, due to take place in April. Never before have so many lots come under the hammer at the same time. This break-up of a key part of the history of Surrealism is likely to attract huge attention and arouse a great deal of passion. In addition to around 1,500 paintings, drawings and photographs, enthusiasts will have the opportunity to bid for a mass of literary documents, unique distillations of the essence and creativity of Surrealism.