Amoako Boafo… contagious success
[22/01/2021]

Acquired by major collectors and American stars, courted by the fashion world and dubbed by museums, Ghanaian artist Amoako Boafo – at just 36 years old – is one of the most sought-after artists of the moment. And it has all happened in just a few months… in the midst of a global pandemic!

 

Amoako BOAFO (1984) has experienced a meteoric rise since his first appearance at Art Basel Miami in December 2019. Although he was unknown at the time, gallery owner Mariane Ibrahim took the risk of offering him a solo exhibition on her stand at one of the world's most important art fairs. However, the risk was calculated because just a few blocks away his work was also being shown at the art center belonging to Don and Mera Rubell, a highly influential couple who welcomed the artist in residence and bought several of his works. During Art Basel, his colorful portraits celebrating black identity sold for around $50,000. A year later, the value of these works has multiplied by ten. We take a look at the motors driving Boafo's extraordinary covid-resistant success.

.
A million-dollar artist at auction in less than a year!
Boafo began to attract a lot of critical attention in February 2020 after the sale of his canvas The Lemon Bathing Suit for $881,500 at Phillips. That was indeed an exorbitant price for an auction debut and especially for a work estimated $40,000 to $65,000. It turns out the painting had been purchased for a little less than $25,000 the previous summer by Stefan Simchowitz from the Jeffrey Deitch gallery where it had been consigned by the Roberts Projects gallery. Simchowitz therefore earned $680,000 in less year for a 2019 painting… even the artist seemed perplexed.
The rapid resale of the work –  for such a huge profit –  seriously embarrassed gallery owner Jeffrey Deitch who was not expecting a 'stab in the back'. Deitch claims he sold the work thinking it would join a large private collection of Contemporary African art and that it would stay there. The resale and result was also somewhat embarrassing for Amoako Boafo who subsequently deplored that his work had been diverted for speculative purposes. Indeed, generally speaking artists have no control whatsoever over the secondary market and Boafo didn't make any direct profit from the resale of his canvas. He expressed concern that his work could be 'used' in such a way and told the media he is more interested in 'longevity' than in fast money. As he put it… he would rather see his work in museums than being used by speculators.
Considering the circumstances, such an extraordinary result could have been just a flash in the pan… but it wasn't. On the one hand, the artist is extremely well supported by his gallery as well as by rich and influential personalities like Naomi Campbell and Kehinde Wiley (very famous since his 'official portrait' of Barack Obama and one of the most influential people in the art world at the moment). On the other hand, his success is a matter of perfect timing: Boafo's art came to the fore at a key moment, contiguous with emergence of the Black Lives Matter movement, when African artists or artists of African descent were already in the spotlight. We note that contracts between powerful galleries and artists working on 'African identity' have multiplied in recent years: David Zwirner has been working with Kerry James Marshall since 2013, with Njideka Akunyili Crosby since 2018 and with Noah Davis since last year. A few months ago, Hauser & Wirth signed with Amy Sherald, Lorna Simpson, Mark Bradford, Henry Taylor and Simone Leigh, and Larry Gagosian has made Nathaniel Mary Quinn one of his flagship artists.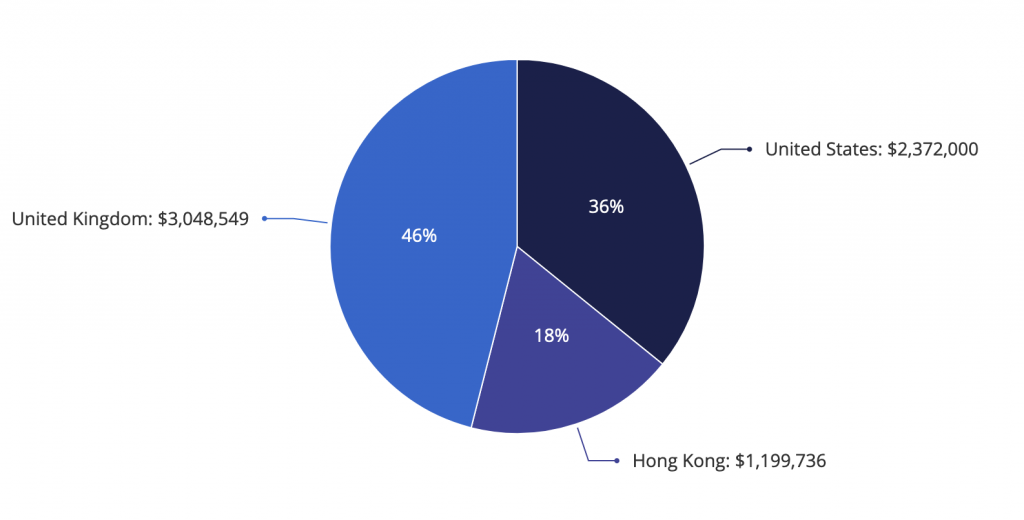 Amoako Boafo: Geographic distribution at auction
.
Boafo's work not only emerged at a time when the market was showing strong interest in this type of work, but also when the general social and political context was blowing a lot of additional wind into the sails of African artists. Cultural institutions understood this and rushed to acquire works before the prices rose any further. The Guggenheim in New York, the Lacma in Los Angeles and the Albertina in Vienna have all purchased works by Boafo in recent months. In addition to museums, Boafo has also conquered the world of luxury and fashion. British designer Kim Jones paid him a direct tribute in the latest Dior homme collection in July, shortly before his exhibition at Mariane Ibrahim's gallery in Chicago where they sold for between $160,000 and 185,000. At the same time, around ten paintings were auctioned in London, New York and Hong Kong through to December. On 2 December in Hong Kong, his painting Baba Diop fetched $1.14 million making Boafo the second most popular African Contemporary artist on the global market after El Anatsui.
Otis Kwame Kye Quaicoe… another new star…
Amoako Boafo is not an isolated case. His phenomenal success has paved the way for other artists, including Otis Kwame Kyei QUAICOE (1990). At just 30 years old, this gifted painter has several points in common with Boafo. Also from Ghana, he excels in the art of portraiture and collaborates with the Roberts Projects gallery, known for identifying young new talents. Roberts Projects hosted the first solo exhibition of Quaicoe (Black Like Me) on American soil at the beginning of 2020. An exhibition described by Terence Trouillot for Artforum as "an ensemble of paintings that, although clearly indebted to the colorful, virtuosic work of Barkley L. HENDRICKS (1945-2017) and Kerry James MARSHALL, present an idiosyncratic perspective on African culture through the celebrated form of black portraiture". This familiar and efficient style immediately seduced and his works were acquired by major private collections before being auctioned at the beginning of July by Phillips. As with Boafo, his prices immediately soared: his painting Shade of Black was estimated at $20,000 but fetched $250,000 despite the pandemic. The following six paintings presented at auction all sold above their high estimates, including one at a major Contemporary Art sale organised by Sotheby's Hong Kong. A clear example of the one of the benefits of the health crisis: the art market's accelerated digitization has had the effect of abolishing borders a little more.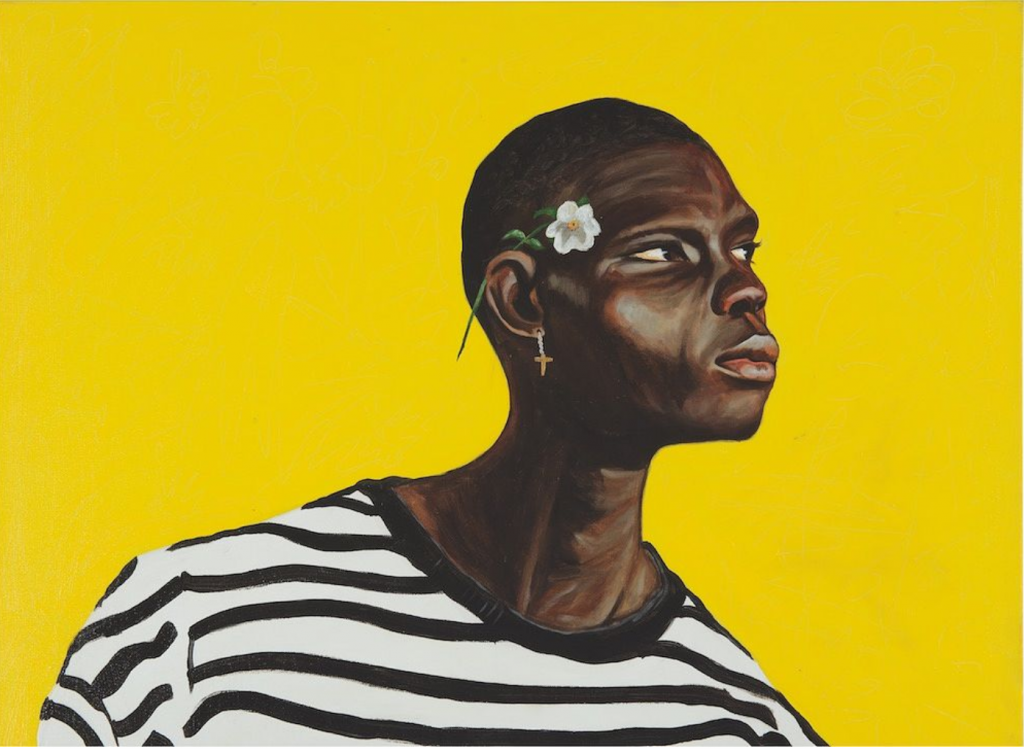 Otis Kwame Kye Quaicoe, Black Stripes on White (detail), 2019.