Art Basel. Contemporary Art's biggest event kicks off
[11/06/2019]

Art Basel currently has three annual editions: Miami in December, Hong Kong in March and Basel in June. On 13 June, the world's most famous fair for Modern and Contemporary art opens its doors to the public in the city of Basel for three intense days, offering artworks by some 4,000 international artists. A total of 290 galleries will be presenting a heterogeneous mix of confirmed and emerging artists to an expected audience of roughly 100,000 visitors. Among the galleries, you will find the Kukje Gallery with Seo-Bo PARK, the Lelong & Co Gallery with Etel ADNAN, the Tina Kim Gallery with Ufan LEE, the OMR Gallery with James TURRELL, Annely Juda Fine Art with David Nash, Paula Cooper with Sol LeWitt, Luhring Augustine with Tunga… And of course the must-see heavyweights like Acquavella, Blum & Poe, Cheim & Read, Hauser & Wirth… and the Gagosian, present both inside and outside the walls this year.
SOLO GAGO
To stand out from the fair's crowd, the Gagosian has decided to mount a 'pop-up' exhibition outside the fair's walls called Continuing Abstraction (10 – 16 June) in the charming Rheinsprung district. The show will focus on the power of abstraction, with works by several of the gallery's artists including Joe Bradley, Brice Marden, Albert Oehlen, highlighting their artistic connections with earlier American abstract artists like Willem de Kooning, Helen Frankenthaler, Jackson Pollock and Cy Twombly. Most of the works are for sale.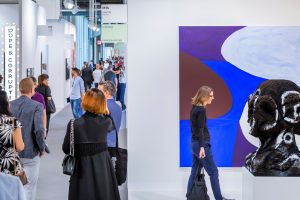 BIG works
A very popular sector of the fair is Art Unlimited in a vast hall hosting works that are too big to be exhibited in a classic gallery or not suitable to be presented on an exhibition stand. Curated this year by Gianni Jetzer, the 72 featured artists include Franz West, Do Ho Suh, Ugo Rondinone, Giuseppe Penone and Steven Parrino.
There are also monumental works outside the fair's walls in an artistic circuit in the old town. The French artist Camille HENROT exhibits her "visually tactile" sculptures with the support of the kamel mennour gallery, Metro Pictures and the König gallery.
SATELLITES
With its magnetic attraction for hoards of art lovers, art professionals and major collectors – Art Basel is a golden opportunity for other more modest players to assert themselves. Every year Art Basel triggers a flurry of satellite fairs, all scheduled around its dates to take full advantage of the excitement in and around Basel during this important time of the year. Among these events Photo Basel, which returns to the Volkshaus Basel for its fifth edition (11-16 June), LIST (10-16 June), Scope (11-16 June), Volta (celebrating its 14th year) and the very young Paper Positions Basel.
ART BASEL, KEY DATES
1970  Birth of the Basel Art Fair under the impetus of gallery owners Ernst Beyeler, Trudi Bruckner and Balz Hilt. This first edition attracted 16,000 visitors.
2000  Inauguration of the Art Unlimited sector for monumental works. The fair attracted more than 50,000 visitors.
2002  First edition of Art Basel Miami.
2006 American galleries constitute the largest group of exhibitors at the show.
2012  Marc Spiegler becomes the fair's director.
2013 First edition of Art Basel Hong Kong.
2019 290 international galleries expecting 100,000 visitors in Basel.