Art Brut: auction prices going crazy
[01/06/2004]

 

The marginal Art Brut movement has been forcing its way into the heart of the art market in recent years. The museums have already got their hands on the best pieces, and now works on offer at auction are starting to be snapped up. Judging from the spectacular price rallies, the finest pieces could well reach USD 1 million one day and effectively rival the best of mainstream art.

These visual artists are self-taught, often leading the life of a recluse and totally cut off from the influences of the artistic trends and works of their day. The themes they deal with are just as varied as the media they use, although usually related to the artists' obsessive disorders. Art Brut started to take shape under André Breton in 1924, but properly emerged as an art form through the impetus of Jean Dubuffet in 1945. The term elevates to the status of artistic creation works that were previously perceived as simply expressions of psychological problems or of artists who had cut themselves off from the influences of the art trends and social conformity of the time to focus on individual introspection. Removed from cultural conditioning, these works were not intended to be money-spinners, but are now a major feature at auctions.

A handful of artists, such as Louis SOUTTER (1871-1942), Adolf WÖLFLI (1864-1930), Friedrich SCHROEDER-SONNENSTERN (1892-1982) ou Gaston CHAISSAC (1910-1964), have now been embraced by the art world as artists in their own right. Their huge production guarantees a buoyant market and well-established price index. Along with the USA's Bill TRAYLOR (1854-1947), their work often fetches the highest price for Art Brut. The record for the movement was achieved in June 2000 at Kornfeld by a Louis SOUTTER painting, Masquerade in Slums (1939), which went under the hammer for CHF 340,000 (EUR 216,536). The most sought after drawings by this Swiss artist (who died in a hospice in Ballaigues) date from post-1937, a period during which he drew distorted thin black figures in Indian ink with his fingers.
Bill TRAYLOR is the most renowned artist in this movement in the USA. Born into slavery on George Hartwell Traylor's cotton plantation, he only began to draw at the age of 84 when he had neither occupation nor roof over his head. He is thought to have produced approaching 1,500 drawings in his three creative years. Gaston CHAISSAC (1910-1964) tops the French league. A cobbler, he was attracted to drawing and painting and established strong links with Jean Dubuffet. His works appeared in the first Art Brut exhibition at Drouin in 1949, but his immersion in the art scene gradually alienated him from the benchmarks for Art Brut set by Dubuffet. The National Museum of Modern Art exhibited his work way back in 1973. Although the retrospective the Jeu de Paume gallery dedicated to him in 2002 temporarily boosted his price, Chaissac's work is now selling for less than it did at his peak in 1990. His finest totems used to go for the equivalent of EUR 150,000. An established figure in the history of the movement, it is some years since any of Chaissac's works breached the EUR 100,000 threshold, but his index is an exception to the rule. Generally speaking, Art Brut prices are accelerating at full speed.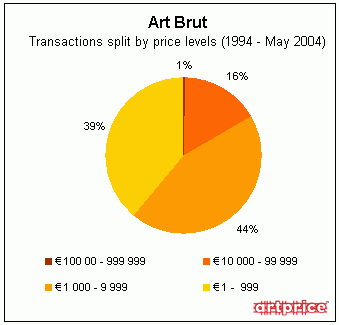 Through the support of a small group of collectors, such as Art Brut Connaissance & Diffusion (the ABCD now has a collection of almost 1000 pieces) and institutions like the Museum of Lausanne, the framework for the market has now been set. Artists are coming out of obscurity and the market is gradually gaining recognition. In ten years, prices have almost tripled.
Some of the works rarely seen at auction may have even risen tenfold in price. However, the majority of these artists' works appear at auction too infrequently to talk about an "established" index. Only about ten works by Pascal-Désir MAISONNEUVE (1863-1934), Martin RAMIREZ (1895-1963), Henry J. DARGER (1892-1973) and Carlo (1916-1974) have gone under the hammer. It is not uncommon to see huge gaps between estimates and hammer prices. In 2003, for example, Le jardin suspendu by Stani NITKOWSKI (1949-2001) fetched EUR 5,600 at Perrin-Royère-Lajeunesse against an estimate of EUR 300. The upside potential in this emerging market remains high. 83% of Art Brut works can still be bought for below EUR 10,000 a piece.
Another feature of this market is that there are very few multiples, as the works were not originally intended for sale. With few artists having produced prints, this part of the market consists almost exclusively of works by Gaston Chaissac, Friedrich SCHROEDER-SONNENSTERN, Johann HAUSER, Roy Dean DeForest and Michel MACRÉAU. Apart from a very few exceptions, they still fetch less than EUR 300.
On 9 June for the first time, the Artcurial auction house is auctioning a comprehensive and eclectic collection of these uninhibited works. The catalogue includes numerous examples by Raphaël Lonne, a doll and drawings by Michel Nedjar, and many works by Jean Joseph Sanfourche, Michel Macréau, Jim Delarge, Jean-Luc Parant, Oswald Tschirtner and Louis Pons, plus Emil Friedrich Schröder-Sonnenstern, whose oil pastels on cardboard now go for EUR 6,000-10,000. These were changing hands for EUR 1,000-2,000 just 10 years ago.