Art Deco sculpture
[09/06/2004]

 

Underpinned by US and UK collectors, prices for Art Deco sculpture have jumped 8% in less than six months.

Although Art Deco refers to work produced between the two world wars, collectors did not start using the term until the 1960s – this in memory of the 1925 International Exhibition of Modern Decorative and Industrial Arts in Paris, which featured exhibits where the decorative was more important than their intrinsic qualities.

Background

There were numerous artists in France who developed the "Art Deco" style in their work, particularly in sculpture. These split into two categories of artist: the traditionalists, who produced meticulous and decorative figurative works and the avant-gardists, who were inspired by the geometrical distortion of cubism.
Women were a recurrent theme for the first group. Whether in erotic poses, elegantly dancing, playing tennis or enjoying a cigarette, the perfectly proportioned woman was a key inspiration. The most sought-after pieces are finely patinated bronzes or those with ivory inlays. Dimitri CHIPARUS (1886-1947) became the leading sculptor in chryselephantine, a substance which combines gold and ivory with different metal alloys. Other artists produced works in a natural finish or with ivory inlays, which have a much lower price tag. Besides the signature, materials and subject matter, the hammer price is dictated by the delicate detail in these pieces.
A second trend emerged directly from Cubism and Africanism. Its major exponents were Gustave MIKLOS (1888-1967), with his wooden pillars and non-figurative totems, Joseph CSAKY (1888-1971), with his cubist heads and also Jean LAMBERT-RUCKI (1888-1967), who is one of the most expensive artists. Along with Dimitri CHIPARUS (1886-1947), Paul JOUVE (1878-1973), René LALIQUE (1860-1945), Édouard Marcel SANDOZ (1881-1971), Jean DUNAND (1877-1942), John Bradley STORRS (1885-1956) and Jacques LIPCHITZ (1891-1973), Jean LAMBERT-RUCKI already boasts hammer prices in excess of EUR 100,000. But record prices aside, investors can find an increasing number of less expensive works, even by the most renowned artists. 60% of Art Deco sculptures sell for less than EUR 5,000. Every year 200-400 pieces are put up for sale at auction for less than EUR 1,500.

Market structure

Collectors in this huge market segment are very demanding. Badly preserved pieces or those with less perfect finishes often end up as part of the 28.5% unsold ratio of Art Deco sculpture. Although works by Dimitri CHIPARUS, Paul JOUVE and Johann Philipp PREISS are snapped up almost every time they come up for auction, it is not uncommon to see no-sales ratios of around 50% for artists like Jan and Joël Martel and Édouard Marcel Sandoz. Some artists, like Jean Lambert-Rucki and Émile-Antoine Bourdelle, even came close to the 60% no-sales ceiling in 2003. And yet this selectivity is not harming price rises. On the contrary, there have been some spectacular ones. For instance, prices for works by Jan and Joël Martel rose tenfold between 1997-2003.
The exceptional works tend to change hands in the USA. In 2003, New York accounted for almost two-thirds of turnover in Art Deco sculpture but only 13% of volume sales. Investors from New York and Japan dominate the market for the most opulent chryselephantine sculptures. France boasts the largest selection of works in the EUR 1,000-5,000 range (almost half of total sales).

Art Deco / Artprice Index of Sculptures
Base 1994 = 100 – currency = EUR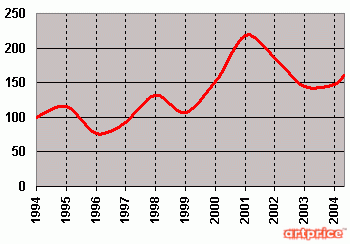 Trends
On the whole over the last ten years, the price of Art Deco sculpture has more than doubled. The market underwent rapid expansion in the mid-1990s. At its peak in 2000-2001, the Art Deco sculpture segment was worth almost EUR 10 million, with over 900 transactions per year. The market boomed during this period, setting numerous records. For example, at Sotheby's on 7 November 2001, Jacques LIPCHITZ broke the all-time record in Art Deco sculpture with an epic work dating from 1923-25 entitled La Baigneuse, which went under the hammer at USD 1.3 million.
After this surge of interest, however, the market steadily depreciated, largely due to the temporary withdrawal of US and UK collectors from the market. Running out of steam, the segment has become less dynamic over the last three years. In 2003, 393 Art Deco pieces changed hands for only EUR 3.4 million. Between 2001-2003, prices nose-dived by 30%.
But in the wake of this sharp fall in volume sales, the last few months have seen the whole market gripped by euphoria, and with US and UK buyers returning in droves, the market for Art Deco sculpture seems to be taking off again. Fierce bidding has returned to the auction rooms, so much so that the Artprice Index for the segment rose 8% in the first five months of this year. Artists boasting the most impressive increases include Demeter H. Chiparus, who in the space of a few months reached his price level of 2000, the year he set a record with Civa, which sold for FRF 1.16 million. Judging from price levels already reached in 2000-2001, and as long as the current trend continues, Fritz Preiss and Marcel Bouraine are expected to post very strong performances.