The evening auctions of contemporary art at Christie's and Sotheby's in London on 23 and 24 June 2004 echoed last month's good results in New York. Both auction houses raked in near to GBP 14.1 million, with more than 90% of lots sold at each session.
Christie's and Sotheby's both chose to showcase artists from the London school, such as Francis BACON, Lucian FREUD and Frank AUERBACH. The Francis Bacon canvasses on offer this week exceeded their high estimates. "Study for self portrait" fetched GBP 1,573,000 at Sotheby's on 23 June, outstripping its estimate of GBP 600,000-800,000. The following day at Christie's, Francis BACON's triptych entitled "Three studies of Isabel Rawsthorne" sold for GBP 2,357,250, making it the highest hammer price of the evening. These results should boost Francis Bacon's price index which, according to Artprice, fell 8% in 2003 after rising 88% between 1997 and 2002.
Artprice Index of the School of London
Base January 1994 = 100 – Update = June 2004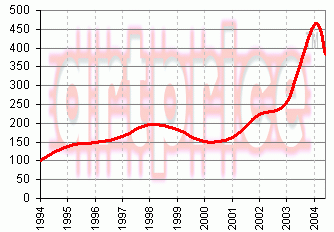 The highest hammer price at Sotheby's was GBP 2,469,600 for a 1982 canvass by Jean Michel Basquiat. Among the highlights of the evening, Frank Auerbach's "Head of J.Y.M." sold for GBP 352,800, almost four times its high estimate. The Artprice index for this artist has increased by 150% in four years. Two new records for artists were set at Sotheby's, with Paula REGO's "The Sweeper" selling for GBP 117,600 and "The Tower of Babel" by Austria's Friedensreich HUNDERTWASSER fetching GBP 274,400. Three other records were set at Christie's on 24 June 2004 for Anish KAPOOR, Emilio VEDOVA and Eduardo CHILLIDA.
These auction sales followed on from the excellent results of the 35th International Art Fair at Basel, which closed at the beginning of the week. Art galleries and auction houses are enjoying a real boom in art prices this year.