Botero in 100 top-selling artists…
Botero in 100 top-selling artists…
[12/09/2023]
Botero in 100 top-selling artists…
You would be hard-pressed to find a LatAm Art sale that does not include a work by Colombian artist Fernando BOTERO, and on 9 March last, Christie's presented no less than 10 Botero works out of a total of 48 lots. Botero's immediately identifiable works have become both iconic and essential. Monumental sculptures by the artist have been installed in the streets of New York, Paris, Jerusalem, Barcelona and Madrid (and elsewhere). The most frequently presented Latin American artist in public spaces around the world, he is also one of the most sought-after and highly-valued on the auction market.
The "Colombian Picasso"
Fernando Botero was born in 1932 in Medellín, a then relatively isolated city located in a valley of the Andes Mountains in Colombia. His father, a salesman, died suddenly at the age of 40, leaving his wife, a seamstress, and his three children destitute. Fernando Botero, then four years old, was brought up by his uncle who wanted him to become a bullfighter. But the young Fernando could not overcome his fear of the bull, so he stopped his training and started drawing. The fear of the bull was of course exorcized years later in a good number of paintings depicting bullfight scenes.
Aged 19, Botero settled in Bogotá in 1951 and had his first exhibition in the Colombian capital. After a number of exhibitions, his career as an artist was definitively launched in 1958 when he received the Prize of the Salon of Colombian Artists. With the prize money Botero traveled across Europe, notably to Spain, where he fervently discovered the Prado Museum, and to France, where he caricatured da Vinci's Mona Lisa. In 1960, he moved to New York and met the curator of the MoMA who bought his parody of La Joconde, Mona Lisa at the age of twelve. An image of the work was published in the New York Times and subsequently became famous, boosting the artist's career. In 1973, he moved to Paris where he began making sculptures which have become as important as his painted works.
---
"The exaggerated proportions give my works a sensuality, a more intense existence, a greater presence". Botero
---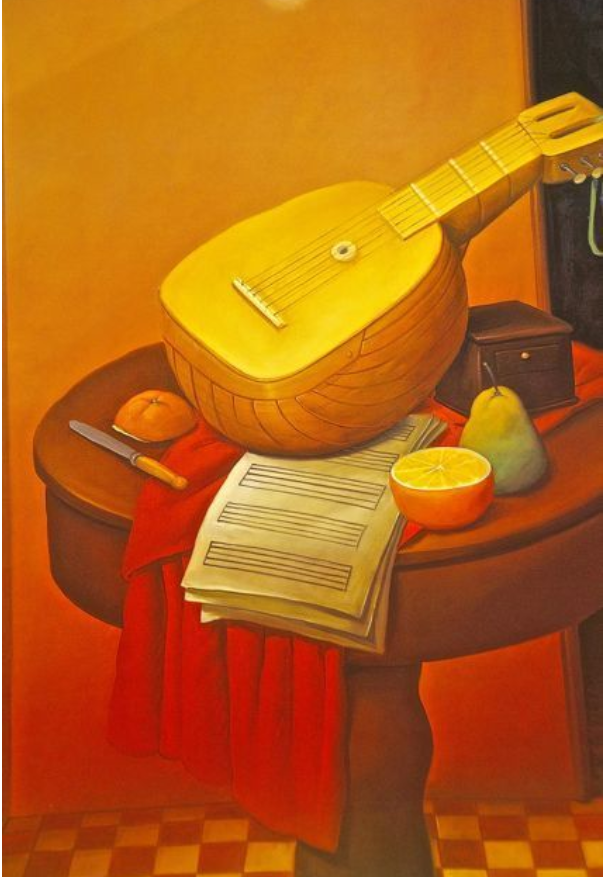 Fernando Botero, Still life with mandolin, 1957
In artistic terms, Botero's key moment occurred in 1956 with Still life with mandolin, his first painting to incorporate exaggerated forms and volumes in an extremely personal and contradictory way. By giving an unusually small rosette to the mandolin, it suddenly takes on monumental proportions. The new disproportionate relationship to volumes subsequently became the artist's signature pictorial theme and he pursued it for the rest of his life.
His round and whimsical figures – which he prefers to describe as "voluminous" rather than "big" – were usually ironical, if not satirical. In Colombia he is nicknamed the "Colombian Picasso". In the rest of the world, he is the most sought-after and expensive Latin American artist.
While his work may seem simplistic and somewhat 'popular', Botero's works are in many senses falsely naive: everything is very well planned and his works are in constant dialogue with art history and organized by major themes (portraits, bullfighting, music, etc.). Botero has been a politically engaged artist denouncing the violence of the Colombian drug cartels and all forms of authoritarian abuse in his works. He is conscious that while art cannot change things, it is nevertheless an essential testimony for perpetuating memory.
Fernando Botero's annual auction turnover (copyright Artprice.com)

"I can say that I am one of the highest priced painters in the world…"
Now in his nineties, Botero continues to work tirelessly. His works are still subject to strong demand and his market and is showing no signs of slowing down. On the contrary, 2022 was his best-ever year in terms of annual auction turnover and he ranked, as often, among the 100 top-selling artists on the global art market.
In March of last year, Christies set a new record for one of his sculptures during a sale dedicated to Latin American art: $4.2 million for Man on a Horse (1999), the 3/3 edition of a bronze work measuring almost three and a half meters high, which Sotheby's had previously sold for under two million in 2016 ($1.8 million).
Botero is one of the few artists whose sculpted works are equally as important but more expensive than his painted work. The auction record for one of his paintings stands at $2 million for The Musicians (1979), less than half the price of his recent record in three dimensions. But his record for a painted work is starting to look old, dating back to a Christie's sale in 2006. It is therefore possible that the market will soon catch up by raising the record price hammered for one of his paintings…
Record in painting:
$2 million pour The Musicians (1979), in 2006
Record in sculpture:
$4.2 million in 2022 for Man on a Horse, compared with $1.8 million in 2016
/
Geography (2022-2023) of Fernando Botero's auction sales (copyright Artprice.com)

Addendum: Fernando Botero died on September 15, 2023, three days after the publication of this article. He was 91 years old.