Christie's and Sotheby's move up a gear…
[16/07/2020]

The major auction houses have done everything within their imaginative power to end the first season of 2020 with some kind of a relaunch of the high-end market. Encouraged by the success of its "super live sale" on 29 June, Patrick Drahi's company focused on the Hong Kong market place. Meanwhile, its rival, owned by François Pinault's group, organised a complex but highly attractive operation involving four back-to-back prestige sales in Hong Kong, Paris, London and New York. The masterpieces were there… and so were the buyers.
Sotheby's returns to Hong Kong as if nothing had happened…
After seven months of forced interruption, physical auctions have finally resumed in Hong Kong… and who better than Sotheby's to revive the city's art market, especially as the firm is now the region's leading art auction vendor. Having generated 41% of Hong Kong's fine art auction sales in 2019, Sotheby's is the city's principal art market growth driver ahead of Christie's (30%), Holly (7%), Poly (6%), China Guardian (6%) and Phillips (5%).
Turnover from Fine Art auctions in Hong Kong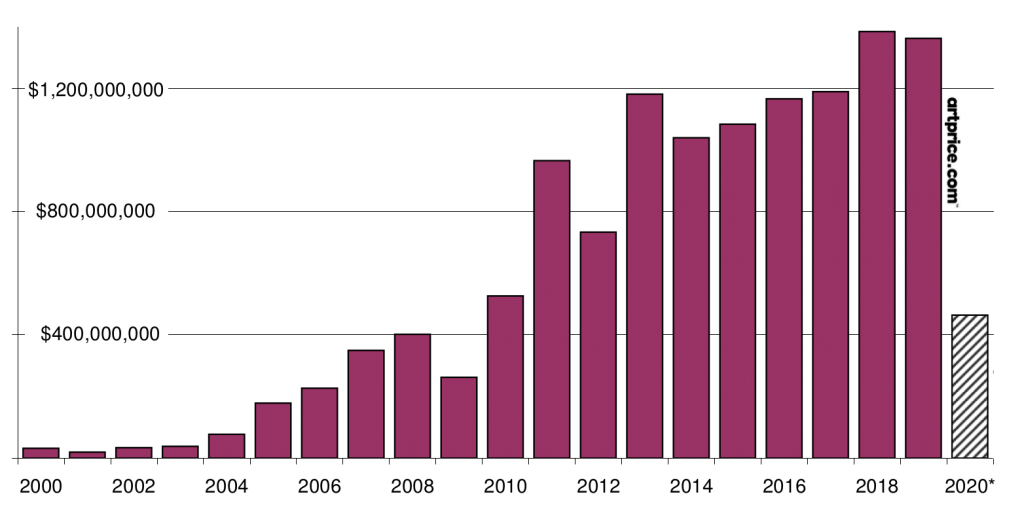 Of the 35 lots offered at Sotheby's 8 July sale of Modern Art, only one remained unsold. The seven canvases by Zao Wou-ki all found buyers with a top price at $14.8 million for his 20.03.60. Another work from the Lyrical Abstraction movement also stood out when Chu-Teh Chun's painting Les éléments confédérés (1983/84) set a new auction record for the artist at $14.7 million.
And it was yet another Sino-French artist who generated the evening's best result when Sanyu's Four nudes (1950) confirmed the immense record reached in November 2019 by his Five nudes (1950), a slightly larger canvas with an additional nude. The two paintings share a strangely similar destiny: painted in Paris, they were both first auctioned in Taiwan in the early 1990s; then they were both sold in Hong Kong during the 2000s for the first time, and then they both reappeared in HK sales again recently.
Price evolution of the two Sanyu canvases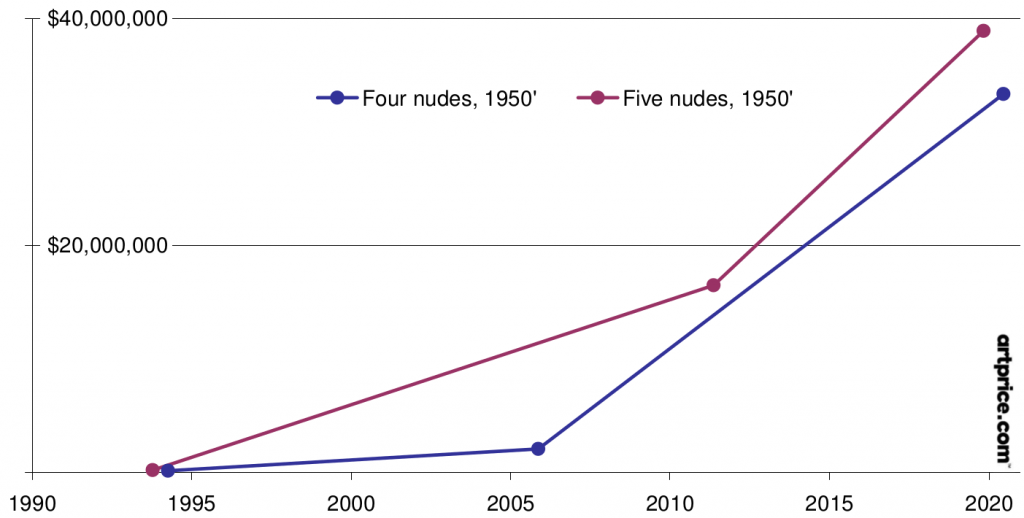 It is interesting to note that the price evolution of these two canvases closely matches the development of Hong Kong's art marketplace. Already enjoying strong growth in the years prior to the subprime crisis (2008), Hong Kong's art market experienced only one year of 'recession'. Since then, its attractiveness has been growing steadily, a fact amply demonstrated by the arrival of Phillips in 2016, and which has further strengthened Hong Kong's strategic position on the global Contemporary Art market.
On 9 July 2020, Sotheby's hosted another highly successful event in Hong Kong with its Contemporary Art session. The sale offered a number of major Western signatures and generated some superb results. David Hockney's 30 flowers (1996) fetched $14.8 million and Clyfford Still's PH-306 (1946-7) sold for $8.3 million. The latter is the first work by the great Abstract Expressionist master offered for public sale outside the United States. Sotheby's chose Hong Kong to sell the work… and there was apparently nothing to discourage bidders.
Christie's goes global…
In a logistically complex but highly successful operation, Christie's managed to take advantage of global time zones (indeed, space and time…) with a back-to-back sale that fully exploited the fast-emerging dematerialization of the art market. The operation involved offering 80 exceptional pieces around the world: 10 in Hong Kong, 15 in Paris, 21 in London and 34 in New York in one major sale entitled "ONE: A Global Sale of the 20th Century".
Gerhard Richter and George Condo marked the opening salvo in Hong Kong with results at $10.2 million and $6.9 million respectively. Two new stars of Contemporary painting, Jonas Wood (1977) and Nicolas Party (1980), both attracted bids above the million-dollar threshold, with two unusual still-lifes.
In the French capital, Christie's paid tribute to the Avant-Garde with works by Duchamp, Chagall, de Staël, Calder, Soulages and also offered some superb pieces by the highly fashionable designers Charlotte Perriand and François-Xavier Lalanne. But it was a painting by Jean Dubuffet that dominated the French session with a result of $7.4 million, followed by a luminous portrait by Amedeo Modigliani that fetched $5.1 million.
Things accelerated in London when lot number 36, René Magritte's Arc de Triomphe (1962), estimated $8 – 12 million, was hammered down at $22.5 million. The Belgian Surrealist's market success is not exactly a new phenomenon since the same canvas already reached $1.1 million in 1992 in New York. Nevertheless, Magritte is currently the 5th best performing artist on the global art auction market.
When the sale got to New York, there may have been some initial disappointment when Picasso's Les Femmes d'Alger, 'Version F' sold for $29.2 million (one of Pablo Picasso's 15 variations on the theme of a famous painting by Eugène Delacroix). But a few minutes later an important work by Brice Marden, Complements (2004-7), fetched a dazzling new record for the artist at $30.9 million. And then, to crown this unprecedented international event, Roy Lichtenstein's superb Nude with Joyous Painting (1994) reached $40.3 million.
ONE: A Global Sale of the 20th Century (left)
Amedeo Modigliani, Portrait of Maurice Drouard, 1909 (right)