Christie's: the latest price surges from Hong Kong
[06/12/2022]

Christie's major autumn sales season in Hong Kong ended last week with a string of prestige sessions. We look back at the evening sale of 20th and 21st Century Art on 30 November, which presented a fine range of both Eastern and Western art, including important works by Joan Mitchell, Zao Wou-ki, Georg Baselitz, George Condo, Zeng Fanzhi and a special sale dedicated to works by Marc Chagall.

The 20th and 21st Century Art sale brought together around fifty lots, mixing works by Western Modern artists (like Renoir and Picasso) with works by emerging living artists in their thirties (e.g. Trey Abdella), and older (Scott Kahn is in his seventies). But beyond the $87 million sales total, the results clearly reflected the market's tremendous vitality and enthusiasm for Contemporary painting. New records were set, and nearly all the new signatures in Contemporary painting fetched results in excess of their pre-sale estimates.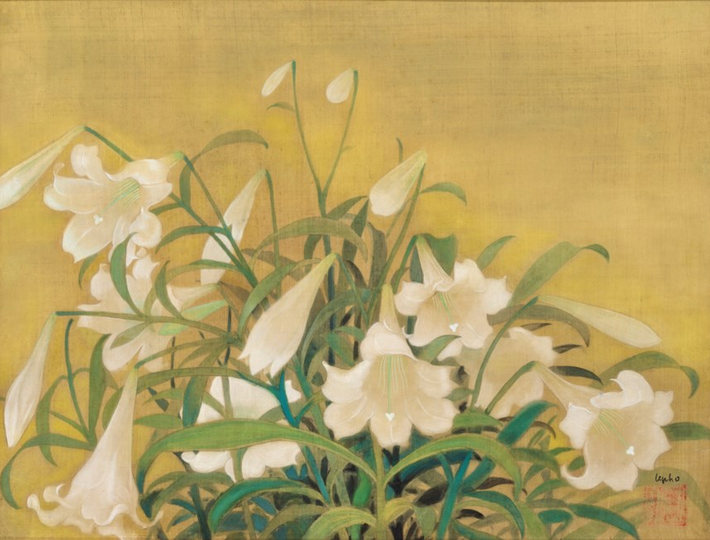 Le Pho, Bouquet de Lys, $355.000
.
Sold between $250,000 and $500,000
Trey ABDELLA: born in 1994 and making his auction debut a year ago at Sotheby's in London, Trey Abdella was discovered by collectors visiting Frieze New York in 2020. Since then, his reputation has grown significantly and looks set to continue gaining ground in 2023 with two solo exhibitions planned in New York (one at the Vito Schnabel gallery, the other at the David Lewis gallery). His secondary market is already dwarfing estimates with prices that have reached beyond $250,000 (Ironing things out (2019).
In roughly the same price ballpark, a drawing by the Belgian artist Harold ANCART (Untitled, 2019) fetched $355,000. In his forties, Ancart is supported by the heavyweights of the international art market, Zwirner and Gagosian. A drawing by Ancart is now worth the same as a beautiful LE PHO still-life from 1936 (Bouquet de lys, $355,000 at the same sale).
.
Harold Ancart: annual ranking at auction by turnover (copyright Artprice.com)

Jonathan GARDNER's large canvas Suits and flutes (2017) fetched a new record price of $419,000, three times its high estimate, just two years after the artist's auction debut. Jonathan Gardner is represented by Almine Galleries Rech and Casay Caplan.
Cited in a Sotheby's website article this year titled "Emerging Artists Who Will Shape the Contemporary Art World", Hilary PECIS has attracted two 7-digit results in 2022 despite making her auction debut just last year (2021). Today, after several highly successful exhibitions, she is clearly one of the market's favorite active American artists and her works have already been acquired by major collections, notably in China at the Budi Tek Yuz Museum (Shanghai), the Zhuzhong Museum (Beijing) and the New Century Art Foundation (Shanghai). At Christie's 20th and 21st Century Art sale on 30 November, her canvas Interior with cats and fish (2019) fetched $484,000 just two years after it was acquired from the Halsey Mckay gallery in New York.
The big hitters…
Major results were of course expected for works by Zao Wou Ki, Yayoi Kusama, Pierre Soulages, but also for a spectacular canvas by Zeng Fanzhi (This Land so Rich in Beauty n1), a splendid Joan Mitchell work ($16.6 million) and a hotly contested Adrian Ghenie painting ($7.3 million). Other lower-tier results were perhaps more remarkable, such as a new record of $1.4 million for Hernan BAS (1978) with a tortured landscape titled The Bats and the Barn Bridge (2008), and the $1.3 million hammered after immensely enthusiastic bidding for a painting by Christine Ay Tjoe. We also note three superb results for works by Huang Yuxing, Chen Georgette and Scott Kahn:
HUANG Yuxing's very colorful four-meter wide Boundless landscape reached $1.7 million versus a high estimate of roughly $560,000 and his prices are rising quickly all over the world. Born in 1975, Huang Yuxing is represented by the Almine Rech and Whitestone galleries which attracted the attention of Western collectors after garnering vigorous demand from Asian collectors.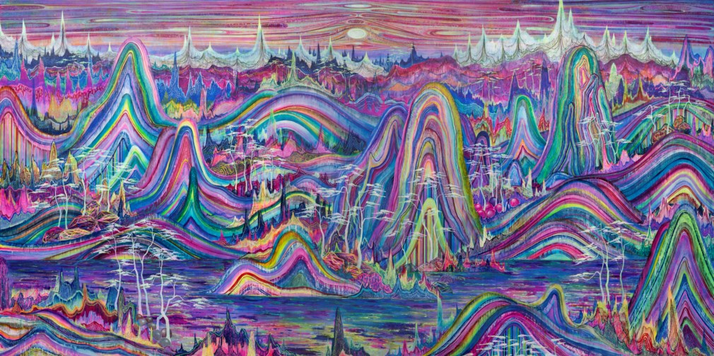 Huan Yuxing, Boundless landscape, $1.7 million
.
CHEN Georgette's Still Life with Rambutans, Mangosteens and Pineapple (1960) generated a new auction record ($1.67 million) for this Singaporean artist (1907-1993).
.
Chen Georgette: turnover at auction since 2000 (copyright Artprice.com)

In 2017, Scott KAHN's paintings were worth $500 at auction: they now fetch over a million dollars. Works by the American painter are currently enjoying global demand after remaining in the shadows almost all of his career. At 76, he owes his now dazzling success to the interest shown in his work by the painter Matthew Wong and, subsequently, by some of the most influential galleries and collectors, particularly in Asia. After successful solo exhibitions at Almine Rech in Paris and Harper Levine in New York, the auction houses are joining the fray with no less than nine Kahn works sold in November, from New York to Hong Kong.
Christie's 20th and 21st Century Art sale on 30 November was immediately followed by a "Post millennium" session in which prices rocketed for works by Stephen Wong Chun Hei (who had already tripled his high estimate in less than a minute), Lauren Quin, Anna Park (world record at $484,000, six times the high estimate), Avery Singer, Lucy Bull (another 7-digit USD result) and Nicolas Party, whose Blue Sunset joined a new collection for $6.6 million. The latter result attracted applause from the room as it takes Nicolas Party into a new price bracket, doubling his previous auction record obtained just a year earlier!