Contemporary African Art: another record year at auction
[31/03/2023]

Contemporary African art has become a staple element of the global art market with auctioneers like Piasa, Artcurial, Bonhams and Sotheby's regularly hosting dedicated sessions, and Christie's and Phillips constantly looking for works by African artists to supply their generalist sales of Contemporary art. And, as their interest in the segment has grown, so too has the market with a considerable expansion of their clientele and an acceleration in big-number bids. Today, results above $100,000, $500,000, or even a million dollars are no longer particularly rare and this price dynamic has encouraged the opening of the market to new African artists. The offer is therefore constantly expanding and 2022 saw a record number of works by African artists sold at auction (more than 2,700), almost twice as many as before the Covid pandemic.

In addition to collectors from the African continent and loyal and long-standing French collectors, buyers are increasingly emerging from the UK, the United States and Asia. In March 2022, a work by the now world-famous 38-year-old Ghanaian artist, Amoako BOAFO (1984), sold at Christie's in Shanghai for over $1.3 million (Orange shirt, 2019). The success of this first sale (for Boafo) in mainland China illustrates the intensity of demand for works by famous African artists on that side of the globe. The geographical expansion of the offer and the growth in the number of collectors is consolidating Contemporary African art as a regular and dynamic dimension of the global art market.

In 2022 works by Contemporary artists born in Africa generated $63 million at auction versus a previous record of around $47 million in 2021. At the end of the first half of 2022, we noted that the auction turnover generated by Contemporary African art was three times higher than during the first half of 2012. By the end of the year, however, its turnover total had risen to five times the decade-earlier annual total!
The foundations are consolidating for the market's main players
Paris is a key marketplace for collectors of Contemporary African art. In France, the Piasa auction house was the first, seven years ago, to create a department dedicated to Contemporary African art under the impetus of Christophe Person who – after spending almost five years with Piasa – subsequently joined Artcurial to head its Contemporary African Art department (2021). Christophe Person has just opened his eponymous gallery in Paris to present African artists with a policy (as he expressed it to the Quotidien de l'Art in December last) of "avoiding commercial productions with repetitive, easy or bling aesthetics". This new Parisian window on Contemporary African creation is indeed a timely move as the French capital has recently attracted international galleries like Skarstedt, David Zwirner, Peter Kilchmann and Hauser & Wirth to open new outlets in the city.
In Paris, at least three sales dedicated to Modern and Contemporary African art are organized every semester. Piasa and Artcurial are continuing to develop the market and the British company Bonhams, another player in the African art market, is setting up shop in both Paris and Brussels via the acquisition of Cornette de Saint Cyr. The segment's development prospects in Europe are therefore looking distinctly positive.
Having organized its first sale dedicated to Contemporary African creation in 2010, the French auctioneer Artcurial was a pioneer. The firm has also been developing the market in Marrakech where the 4th edition of A Moroccan Winter has just posted total takings of $3 million dollars, including $150,000 for the canvas Flame by Mohamed MELEHI (1936-2020) and $113,000 for a large painting by Aboudia Abdoulaye DIARRASSOUBA (1983).
Aboudia: price index at auction (copyright artprice.com)

Meanwhile, Piasa, which intends to place African artists and their works in an African and global context to "anchor them in history", is reaping the fruits of its work in the segment with a "sold out" sale of works by Senegalese artists on 9 November 2022 (Africa + Modern and Contemporary Art): all of Abdoulaye SAMB's postcard-sized drawings sold, although it was the artist's first auction appearance. This unprecedented success demonstrates that French collectors are ready to commit financially when the work is good, including for artists who have not yet established an 'official' price on the auction market. That November sale also rewarded the market's leading names with excellent results for works by El Anatsui ($88,600), Barthélémy Toguo, Frédéric Bruly Bouabré and Chéri Samba.
The top-performing marketplaces and top-selling artists
The Anglo-Saxon auction houses are increasingly tapping into demand for Contemporary African art. Phillips – which initiated Amoako Boafo's rocket-like auction ascension by presenting his first painting at auction, The Lemon Bathing Suit ($881,000 in 2020) – introduced its network of collectors to new Ghanaian artists through a dedicated exhibition and sale held in London in February 2022 (Birds of a Feather) with works by Awanle Ayiboro Hawa Ali, Courage Hunke, James Mishio, Araba Opoku, Abdur Rahman Muhammed and Kwaku Yaro. Meanwhile Christie's and Sotheby's are engaged in a heated price records race: $2.19 million for a work by Toyin Ojih Odutola at Sotheby's in November 2021; then $4.47 million for a painting by Njideka Akunyili Crosby at Christie's in November 2022. The best results are therefore not in Paris or Marrakech, but rather in New York and, more recently, in Hong Kong where last year the Chinese auction house Holly International hammered two new artist records: $341,000 for Epoch 1 by Ghanaian artist Isshaq ISMAIL in July, and $614,000 for a 4-meter canvas titled Jeux d'enfants by the Ivorian painter Aboudia Abdoulaye DIARRASSOUBA in November.
Isshaq Ismail: turnover at auction by price range (copyright artprice.com)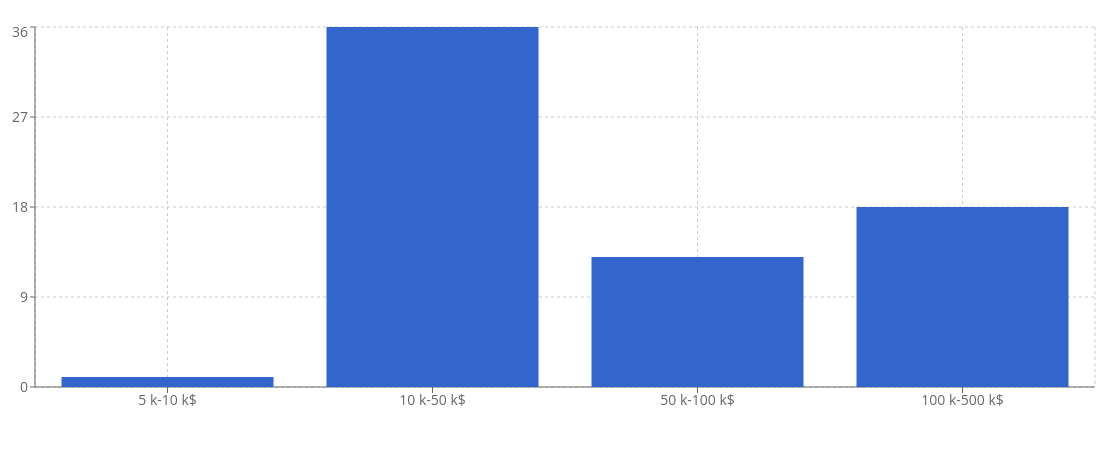 These Hong Kong records modified our ranking of the 500 top-selling artists of the year 2022, in which four Contemporary African artists stand out. First, Aboudia climbed to 128th position thanks to a resounding annual auction turnover total above $15.6 million. Behind him, in 352nd place, was Isshaq Ismail with a total of $5 million (a dazzling success which placed him ahead of William Kentridge and Njideka Akunyili Crosby, whose annual totals were both $4.7 million). But, the biggest development of the year was the fact that China is now playing a decisive role in the economic health of the Contemporary African art market and in the price construction of its artists.
Artprice article published in the March issue of Diptyk Magazine