After many years in the doldrums, the overall price index of Edouard Manet is up by 66% since the start of the year.
Edouard Manet was brought up in a bourgeois household — his mother was a diplomat and his father a magistrate. At eighteen he was allowed to train as a painter, starting his studies in the studio of Thomas Couture where he stayed for six years, producing some passionate copies of Velasquez and Titian. In 1859, after three years of working alone he made his first attempt to exhibit in public, submitting Le Buveur d'Absinthe to the Salon. The canvas was turned down and his first solo exhibition at the Martinet gallery triggered a scandal. In 1863 at the Salon des Réfusés, his Déjeuner sur l'Herbe was again heavily criticised. Then, in 1873, his fortunes turned. The Bon Bock was accepted by the Salon and finally won over the public. Suffering from locomotor ataxia he gradually abandoned the easel for less strenuous techniques such as pastels. He died in 1883 at the age of 51.
Artworks at auctions
Édouard MANET left behind just over 400 paintings. The most expensive ever sold at auction is La rue Mosnier aux drapeaux, 1878, for which the Getty Museum paid just over USD 26 million including buyer's fees at Christie's in 1989. Canvases put up since and expected to beat this record have all failed to reach their low estimates, such as Jeune fille dans un Jardin which went for USD 19 million on 9 November 2000 having been estimated at USD 20-30 million. Most of the oils are now in museums, such as Olympia which sold for 10,000 francs when Manet's studio was auctioned after his death in 1884. By way of comparison, Jeune Femme au Livre, which sold for 115 francs at the same auction, was estimated by Christie's at GBP 320,000-420,000 in February 2003.Paintings make up just 3% of the Manet lots sold at auction. Most are prints and lithographs. Around 50 come up each year and 70% go for less than EUR 1,500. That said, the priciest of Manet's 76 engravings, such as good prints of Les courses, which was published by Lemercier in 1884, or L'Execution de l'Empereur Maximilien, can fetch more than USD 100,000.
The market places
Manet's multiples come up in many markets. They are found in Europe, mainly France and Germany, but also in Australia, Canada and the USA. The best canvases and drawings are usually sold in the English-speaking markets. Also, London has an increasingly dominant market share for top-of- the-range Manets, hosting the sale of three out four paintings offered since 2002.
Buy or sell
Manet's prices have been rising rapidly for several months. After many years in the doldrums his overall price index is up by 66% since the start of the year. Works regularly double their estimates at auction. La Leçon d'Anatomie, one of his youthful creations, was sold in June 1998 for GBP 130,000 and resold in February 2003 for GBP 190,000 at Sotheby's, which had estimated GBP 80,000-120,000. The price rise has also affected the prints. Manet fans can now expect to pay USD 950 for Le Gamin, second state of an 1862 engraving, compared to USD 850 in 2002 and around USD 650 in 2001.
    Édouard MANETArtprice Indexall media categories, base January 1997 = 100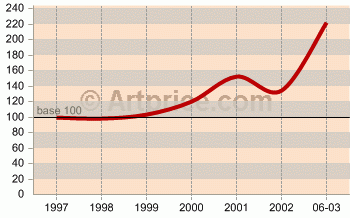 Édouard MANETLots sold at auctions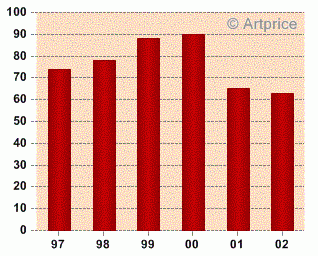 Édouard MANETAuction sales turnover 1999-2002 / weight by country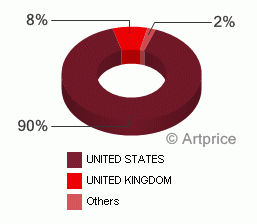 © Artprice