Flash News: Salon du Dessin in Paris – Freud + Hockney = $20.6 million – Phillips' season ends on another high note
[02/07/2021]
Paris drawing fair (Salon du Dessin) celebrates 30th edition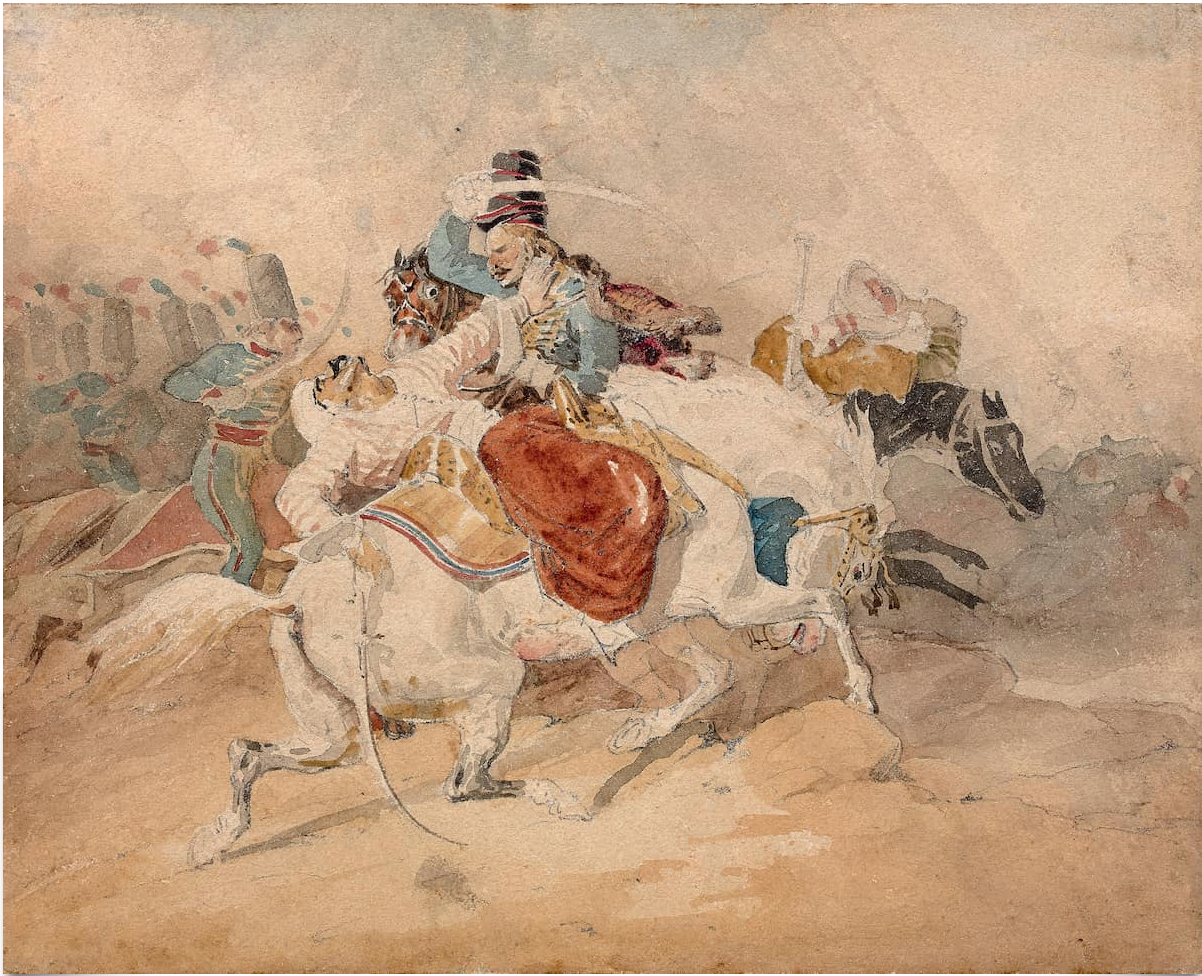 After a 2020 edition canceled due to the pandemic and after months of lockdown, dealers and enthusiasts of artworks on paper are at last getting together around a top-quality selection of drawings from all periods.
Until 4 July the Palais Brongniart in Paris will be hosting approximately thirty galleries (mostly Parisian). A further nine foreign galleries will be presenting their works on the fair's digital platform as they were unable to attend due to the health restrictions.
At Brame and Lorenceau there's a superb composition (1988) by Sol Lewitt; at Waddington Custot there are works by modern European masters including a superb mixed-technique depicting a painter by Pablo Picasso; at Reginart Collection there's a beautiful ink profile of Henri Rochefort-Luçay by Henri de Toulouse-Lautrec.
There are also lots of Modern works and several interesting Old Master drawings including one by Pierre-Charles Tremolieres (Galerie Prouté) and Théodore Géricault's Combat of Hussars and Mamelukes during the Egyptian Campaign, offered by the Nathalie Motte Masselink gallery.
Freud + Hockney = $20.6 million
There were five ardent bidders on what Sotheby's described as one of the most masterful peer-to-peer portraits ever made… Lucian FREUD's small but intense portrait of David Hockney. Not seen publicly since the National Portrait Gallery's 2012 exhibition of Lucian Freud's work in London, the portrait was painted when Freud was in his early eighties and was the last in a series of portraits of 'celebrities' that including Queen Elizabeth II.
Embodying the meeting of two eminent masters of British art, the portrait was the highlight of the British Art Evening Sale: Modern/Contemporary sale on 29 June which generated $66.7 million.
Its final price, $20.6 million, nearly doubled its low estimate of $11 million and represents the best result for a Lucian Freud portrait in this dimension (16 x 12 inches). The six Freud canvases that have sold for higher prices at auction are all between three and seven feet tall.
It also brings Freud back into Artprice's provisional ranking of the Top 500 artists (by auction turnover) and substantially ups his price index. US $100 invested in 2000 in a Freud work is currently worth, on average, nearly $700 (+600%).
Phillips' season ends on another high note
After two highly successful white glove sales in June, Phillips was again very satisfied with the results of its June 24 day sale. Focused on 20th Century & Contemporary Art, the sale totalled $35 million and set new records for 21 artists, including Kehinde Wiley, Katherine Bernhardt, Jennifer Guidi and Flora Yukhnovich.
After the sale, its co-managers Rebekah Bowling and John McCord said: "There was strong demand for exceptional works at all levels (…). Artists like Roy Lichtenstein, David Hockney and Günther Förg feature prominently in the Top Ten, alongside KAWS and Flora YUKHNOVICH, whose Pretty Little Thing set a new record for the artist at $1,179,500. New records were set for 21 artists in the sale, including Kehinde Wiley, Katherine Bernhardt and Jennifer Guidi. Phillips is also proud to have presented several 'auction debut' artists including Rebecca Ness, Felipe Baeza and Soimadou Ali Ibrahim."
Phillips just keeps on beating its own previous records and is continuing to impress the art world… particularly its two major competitors, Christie's and Sotheby's.