French records kick off the new season…
[02/10/2012]

French records kick off the new season…  

As the new auction season begins, French Contemporary artists have got off to a sprightly start with strong demand in both Paris and New York for a number of the key figures of the French cultural scene since the 1960s and "young" French artists born after 1945.

In New York first of all, Sotheby's sold an untitled painting (300 x 279 cm) by Philippe PASQUA for $120,000 versus an estimated price range of $70,000 – $90,000. In euros (€92,000 excluding fees) this impressive oil on canvas (Untitled) set a new record for the artist after his previous best of €90,000 signed last year for Robert COMBAS le transsexuel en attente d'une nouvelle identité (Cornette de Saint-Cyr, 22 October 2011). Pasqua's new record is not far behind that of the darling of Contemporary French art, Robert COMBAS who began his career in the 1970s and whose rising price index over the past four years produced a new record of €106,000 ($141,000) in April 2012 at Cornette de Saint-Cyr (Les 4 peluches de l'Ave Maria -1987).

Two days after Philippe Pasqua's new record in New York, Sotheby's offered a number of works from the Marcel Brient Collection in a Parisian sale entitled La Page Française (24 September 2012) that also generated several new records. The most significant in monetary terms was that for Simon HANTAÏ, a major French painter of Hungarian origin, whose work with canvas (folds, marks, spaces and memory) profoundly impacted European creation. With a result of €600,000 (roughly $800,000) for his Étude (a folded blue work from 1969) after a similar canvas (Étude, 1969) fetched just €200,000 on 21 October 2007 at Artcurial Paris, the French market has produced a formidable price revision for the artists (Hantaï died in 2008).

Sotheby's La Page Française sale also allowed the French artists Bertrand LAVIER and Bernard FRIZE to record their first results above the €100,000 line, and well above expectations: Bertrand Lavier's Peinture blanche et dorée no.3 sold for €110,000 (about $143,000) and Bernard Frize's Thouan fetched €105,000 ($136,000). Michel Parmentier also signed a new record at €80,000 (about $104,000) for a large glycero painting on canvas entitled Peinture no.10 which more than doubled his previous record of €36,000 ($43,000) recorded on 6 October 2005 (Sans Titre, 1984, Sotheby's Paris). With this result, this radical conceptual artist (little known in French auctions with just five results of which four in Paris, and completely unknown on foreign markets) has been re-priced in line with his importance in the history of Contemporary art in France. He was in fact the co-founder in 1966 of the B.M.P.T group alongside Daniel BUREN, Olivier MOSSET and Niele TORONI.

In the work of Michel PARMENTIER, the systematic language is translated into horizontal bands of single colour (the colour changes each year) alternating with the white stripes of the canvas. These horizontal stripes previously fetched less than Daniel Buren's vertical bands. Indeed, in October 2007, Buren sold two of his conceptual works for between €52,000 and €70,000 at Artcurial in Paris: Blanche et orange, 1970, for €52,000 (approx. $92,000) and On Mahogany, 1989, for €70,000 ($101,000). Daniel Buren, whose CV is weightier and more international than Michel Parmentier's, thus sees his former co-worker (they both frequented Simon Hantai's workshop before founding BMPT) catch up with him in auction price terms. At the same 24 September sale, Buren signed a result at €78,000 ($101,000) for Peinture acrylique blanche sur tissu rayé blanc et noir, a 1979 work measuring 138.50 x 87.50 cm. This was his first award over $100,000 so far this year (he has six in total) and his auction record still stands at $450,000 (€320,000) for Peinture émail sur toile de coton which sold at Phillips de Pury & Company's Carte Blanche sale in New York organised by Philippe Ségalot on 8 November 2010.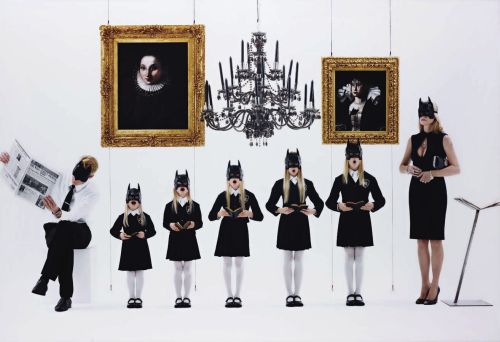 Gérard Rancinan. Batman Family (Girls), 2011. C print, 179 x 264 cm, édition 1 sur 3. Copyright Gérard Rancinan.
As far as French photographers are concerned, Gérard RANCINAN confirmed his success at a charity auction in Dallas on 22 September at Phillips de Pury. On 17 May 2012, the same auction company sold Batman Family (girls), a photographic fresco measuring 179 x 264 cm and edited in 3 copies, for £80,000 ($127,500), more than six times its low estimate and his first result above the €100,000 line! It only remains for the artist to conquer the New York market.