How to buy a work by Omar Victor Diop?
[19/06/2020]

Omar Victor DIOP is an African artist who is attracting a lot of attention. A brilliant portrait photographer, just 40 years old, he has enjoyed remarkable success since his work was discovered at the Rencontres de Bamako art fair in 2011. Exhibited all over the world, his work seduced a wide range of collectors before seducing the general public via magazines and album covers. In fact, nowadays his work has become almost unavoidable and his meticulous staging, his optimism and his reworking of the past with style and humour are all difficult to resist.

When it comes to the acquisition of his works, on his official website the artist directs us to a single contact: the Magnin gallery in Paris. Likewise on his Instagram account. Everything goes through André Magnin, the Parisian gallerist specializing in African art and long-time adviser to the Pigozzi collection. After spotting the young prodigy, André Magnin was quick to show his work at Paris Photo where he presented a superb series titled Diaspora (2014) portraying black historical figures who have fallen into oblivion that literally kick-started the artist's popularity. The success was immediate and photos from the Diaspora series were subsequently shown at the 2015 edition of the Rencontres de la Photographie in Arles, then an entire set was acquired by the Louis Vuitton Foundation which showed the photographs in its Art Afrique, the New Workshop exhibition in 2017.

To make the most of an Omar Diop acquisition – leaving aside questions of personal taste – the photos in the Diaspora series appear to be the most 'important'. Not just because they have been acknowledged by the art world for having reinvented an aspect of traditional African photographic portraiture, but essentially because it was the series that launched Omar Diop's international career and got him into major collections. The entire series includes 18 photos in total of which 14 remain available for sale, the other prints having sold out. Each photograph is the subject of two separate editions, a 120 x 80 cm format and another measuring 60 x 40 cm (each being editions of 8 + 2 APs). One aspect of the marketing is worth bearing in mind: the prices increase the fewer there are remaining. Thus… the large formats cost between 7,000 and 12,000 euros for the last prints, that and the small formats cost between 4,800 and 8,000 euros. In short… the quicker you get there, the less you pay.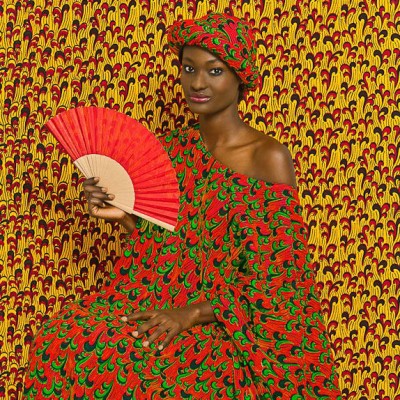 Omar Victor Diop. Aminata, from the serie « Le Studio des Vanités », 2011
Another key Omar Diop series is his Studio des vanités (since 2011), inspired by portrait artists like Malick Sidibé, Mama Cassey and Seydou Keïta, and now counting around forty works. Its images are more flamboyant than the other series, particularly the portrait of the model Aminata (2011) in an edition of 5 copies. Victim of its success, the Aminata photo is almost impossible to find. The only way of obtaining a copy would be to create an alert on future auctions in the hope a copy will come up for sale, or to convince a friend to sell you one…
Artprice article published in Diptyk Magazine