Jenny Saville, a brilliant painter
[22/12/2020]

Warning! Jenny Saville's art may not be suitable for sensitive souls! The British artist has changed the way women are depicted… with her bodies of abundant and tortured flesh. Creating poignant and impactful images, Saville is one of the most admired painters of our time.

Often said to be following in the footsteps of Rubens and Lucian FREUD, Saville herself  claims a more direct lineage with Francis Bacon and de Kooning, artists who painted the bodies of women with a certain violence. Imperfect, tormented, sometimes distorted to the point of grotesque, Jenny Saville also trades in afflicted flesh. Clearly uninterested in straight-forward and/or classic beauty, she finds more interest in imperfections than in smooth and blemish-free bodies… with all the societal implications and taboos that this raises. The human body is her subject in its very plasticity, and not as the object of other people's projected desires.
A career launched by Charles Saatchi
Jenny SAVILLE attended the Glasgow School of Art from 1988 to 1992 and spent a term at the University of Cincinnati in 1991. During that first encounter with the United States, she was struck by the level of obesity. I saw, she says, a lot of fat women. Big white flesh in shorts and t-shirts. It was good to see because they had the physique that interested me…". In 1994 she obtained a scholarship that allowed her to return to the United States where she spent many hours observing the work of a New York plastic surgeon. Like Renaissance artists who used to receive 'anatomy lessons' in morgues, Saville studied wounded, transformed, fragile and resilient flesh through a multitude of sketches and photos, creating an archive she later used as the basis for her paintings. These include the now famous female nudes bearing pre-operative marks drawn with a felt-tip pen.
At the end of her studies there was the traditional final year exhibition and that's when she was spotted by Charles Saatchi. The famous collector and gallery owner bought her entire exhibition and offered her a two-year contract with his London gallery. At 23, Saville found herself projected into the reputedly closed world of Contemporary art and she immediately became one of the key figures of the YBAs initiated by Damien HIRST and Tracey EMIN and subsequently united by Charles Saatchi in 1997 in the framework  of his Sensation exhibition at the Royal Academy of Art in London. A year later, one of her paintings appeared at auction for the first time, and it became clear that demand was inflating her prices quickly.

Jenny Saville: turnover at auction. Copyright Artprice.com
.
20 years to become the world's dearest living female artist…
Saatchi's Sensation exhibition was still fresh in our memories when a first large canvas by Jenny Saville went to auction in 1998. The work tripled its high estimate, immediately fetching over 84,000 (Prop, Christie's London). Twenty years later (2018), Saville was crowned "the most expensive living female artist in the world". Between the two dates  (2018), her fame grew rapidly and demand for her work was vigorously stimulated by her entry into the Gagosian gallery in 2002. But Jenny Saville has also benefited from a favorable wider context, notably the generalised effort to promote the work of women artists (past and present).
At the turn of the 2010s, a study conducted by Maura Reilly added considerable momentum to this effort by denouncing the lack of representation of women artists in cultural institutions and major museums. It showed that only 29% of individual exhibitions organised between 2007 and 2014 at the Whitney in New York concerned women. The figure was 25% at the Tate Modern in London, 20% at the MoMA and 16% at the Pompidou Centre in Paris. This shortfall in gender representation led to a lower level of media coverage of women artists compared to male artists and therefore to lower market demand, resulting in a very substantial price differential at auctions. When Reilly's study was published (2015) the highest auction price for an artwork by a living female artist was $7.1 million (a painting by Yayoi KUSAMA); the highest price for a living male artist was $58.4 million (a sculpture by Jeff KOONS (Balloon Dog (Orange)). The two Contemporary artists were separated by more than $50 million.
In the years that followed, numerous initiatives were conducted to reduce gender gaps in the art world: exhibitions dedicated to women, promotional work financed by auction houses, repositioning of major collectors and museum acquisition policies, etc.. These include the MoMA Women's Project (MWP), which works to improve the ratio of women to men in the MoMA's collections. As the works of women artists are generally much less expensive than those of their male counterparts, their sudden promotion has considerably dis-inhibited buyers… and caused their prices to rise.
As this trend was fast gaining momentum, the Chinese billionaire Liu Yiqian organized an exhibition dedicated to women artists, titled "She", in his private museum (the Long Museum) in Shanghai (27 – 30 October 2016). He decided to buy one of Jenny Saville's large-scale canvases and paid no less than $9 million for it ($7 million above the high estimate). It was of course a new record for the artist and a superb publicity stunt for the Long Museum exhibition into which the work was immediately integrated. Two years later a painting considered her best work ever to be auctioned (Propped, 1992) arrived on the market. Carrying a high estimate of $5 million, the work fetched $12.5 million at Sotheby's in London. As she crossed the $10 million threshold Saville also became the most expensive living female artist in the world. It is now difficult (not to say impossible) to buy a Saville canvas for less than a million dollars…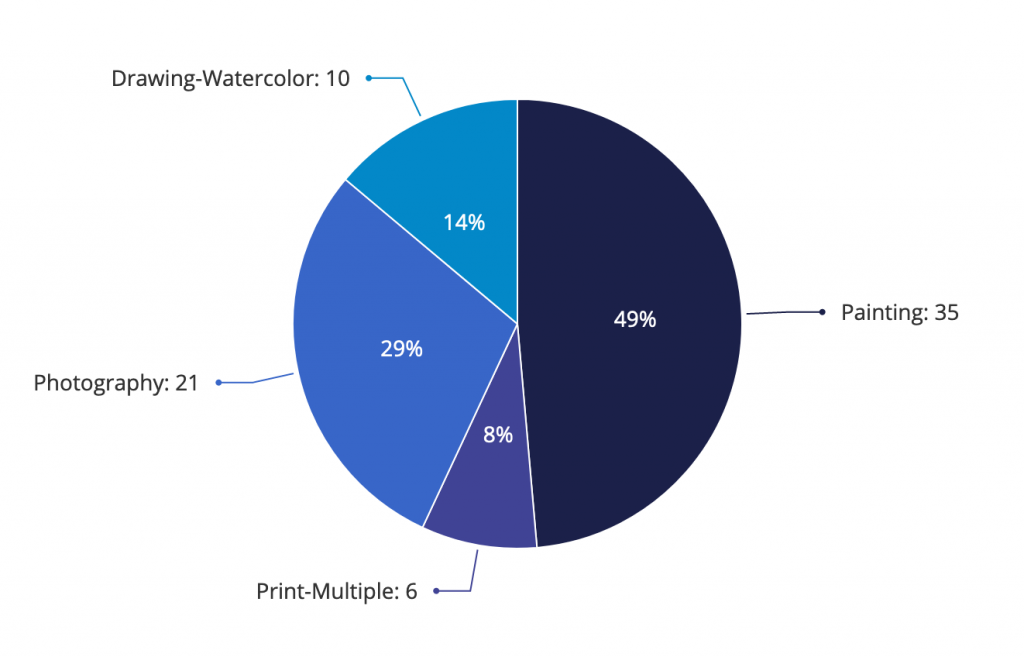 Jenny Saville: number of lots sold by category, 2000-2020. Copyright Artprice.com
.
Her rare drawings, often very large formats in pastel, are snapped up for several hundred thousand dollars. With a smaller budget, there are still some prints and notably some photographs from a collaboration with the photographer Glen Luchford (series Closed contact). These frozen images, with their bodies and faces distorted against a glass plate, were the subject of an exhibition at the Gagosian in 2002. Some of the buyers at the time are likely to resell their acquisitions, but you have to be attentive: only ten or so opportunities to bid for these works have arisen in 10 years.