London, weaker performances
[10/02/2020]

London's prestige art sales last week opened the 2020 auction season with less impressive results than in previous years. The turnover figures were clearly down on 2019 and together Christie's and Sotheby's Imp/Mod + Surrealist sales on 4 and 5 February last week took $202.4 million versus $326 million a year earlier (more than $124 million less)… a drastic drop of -38%.

The sold rates were not bad at all… but the catalogs were much less dense and there was a lack of mega-lots. Last year, Christie's offered twice more artworks (thanks to a private collection) and Sotheby's sold a beautiful Venetian painting by Claude MONET – Le Palais Ducal – for $36.2 million. This year the top result was 24.6 million for a superb Magritte painting (see below).

On the positive side, several artist records were raised, including the four most anticipated (see Art Market Insight "What records might we expect?") works in the sales by George Grosz, Tamara de Lempicka, Jean Metzinger, Pyke Koch. All high quality works, demand was strong and they all fetched well above their estimates.
The important records of last week
Magritte signs the week's best result
Christie's prestige Imp/Mod evening sale (followed by the Surrealist component) on 5 February took a total of £106.8 million ($138.9 million). The evening's best result (and the week's) was generated by a René MAGRITTE's superb Surrealist work, A la rencontre du plaisir, which fetched £18.9 million ($24.6 million). Painted in 1962, the work combines several of Magritte's most emblematic motifs (the man with a bowler hat, the curtain, the moonlit night) and was purchased directly from the artist shortly after its creation. It remained in the same family collection for more than 50 years before coming to auction for the first time.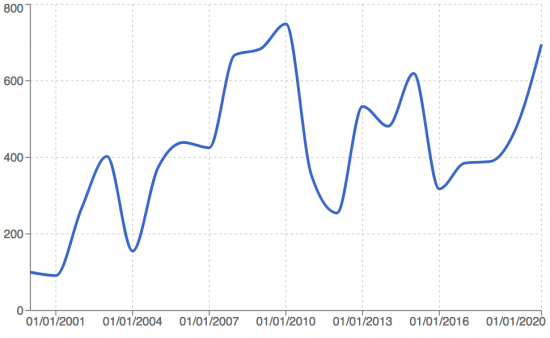 Tamara De Lempicka – Price index (copyright Artprice.com)
Lempicka fetches a higher price than Giacometti…
"This is the first time we have a female artist on the cover of our Impressionist catalogue, and we are very proud of it" said Christie's specialist Keith Gill. And considering the strength of demand for the LEMPICKA masterpiece, it may not be the last time. Expected to fetch no more than $16 million, there was genuine surprise when it more than doubled its low estimate.
Commissioned in 1932 by the husband of cabaret star Marjorie Ferry at the high point of Lempicka's career in Paris, the superb Portrait de Marjorie Ferry was on its third visit to an auction. Purchased for $550,000 in 1995, the work sold for 10 times that price in 2009, at just under $5 million. On 5 February last week, it was offered a pre-sale estimated price range of $10 – 16 million and was guaranteed by a third party. It reached $21.2 million, setting a new auction record for Tamara de Lempicka (and generating a handsome capital gain of $16 million in just ten years).
The result was Lempicka's second auction record in just three months since Sotheby's sold her La Tunique rose (1927) for $13.4 million (at over double its low estimate) last November. More subtle than La Tunique rose (notably with the superb white drapery), Portrait of Marjorie Ferry takes the most popular portrait painter of the Roaring Twenties past the $20 million threshold for the first time, and it even beat the Giacometti masterpiece proposed the same evening: Trois hommes qui marchent.
Among the other works in the recent sales that had previous auction histories, we note that the price for Pablo PICASSO's canvas Inside the flowerpot (1953) has tripled in 20 years, going from $3.1 million (Christie's London, December 1999) to $9.4 million, not exactly surprising considering the evolution of Picasso's prices over a generation.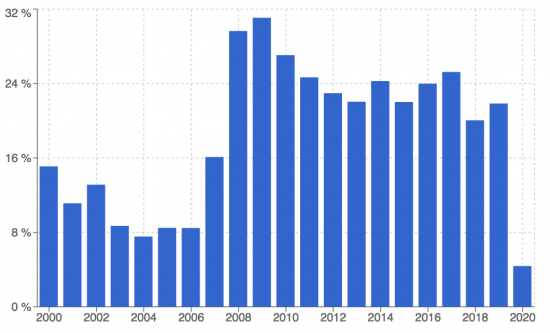 Pablo Picasso – Low unsold rate (copyright Artprice.com)
However, round trips to auctions do not necessarily guarantee added value. Alberto GIACOMETTI's important sculpture Trois hommes qui marchent (Grand plateau) has not gained in value since it was sold in 2008 reaching $15 million.
After a quick change of auctioneers, Christie's continued with its sale of Surrealist works, obtaining solid results for Max Ernst, Francis Picabia and Salvador Dalí. Commentary on the Surrealist sale is available HERE