Market temperature in Hong Kong after Sotheby's recent sales
[19/10/2021]

In the first half of 2021 Sotheby's posted a spectacular total of HK $1.3 billion ($167 million) from its Hong Kong Modern Art sales, a new record for Sotheby's in Asia. Christie's, for its part, posted a clear turnover increase on its HK fine art sales during H1 2021, with a significant evolution in the overall profile of its buyers: Asian clients represented 39% ($1 billion) of its global H1 fine art turnover.

The trend seems to be continuing this fall, and while the results are strong for the usual Asian signatures – including the avant-garde Sino-French artists like Sanyu, Zao Wou-Ki and Chu Teh Chun – the Hong Kong market is continuing to evolve towards a more international offer.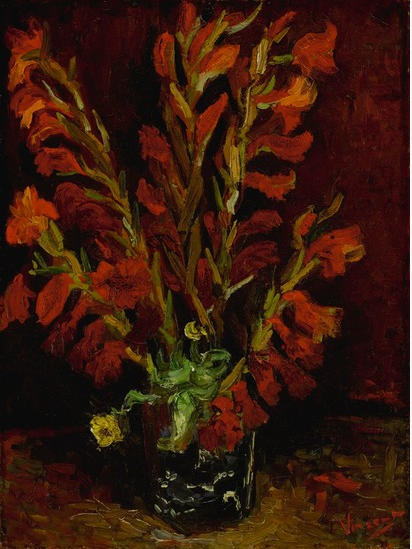 Vincent Van Gogh, Vase aux glaïeuls, sold for $9.1m.
.
French Modern artists in great demand 
French artists have become very popular with Hong Kong art collectors and – well aware of this – the city's foreign auction houses like Sotheby's are now clearly bending over backwards to bring works by the most emblematic artists of the Modern Art era to their HK prestige sales. At Sotheby's Modern Art Evening Sale on 9 October last, French signatures were particularly abundant, particularly the most famous Sino-French artists. However the sale's best result was hammered for Pablo PICASSO's Femme accroupie which fetched $24.6 million.

Two works by Bernard Buffet, a Couseuse by Renoir, a sculpture by Auguste Rodin, a superb gouache by Marc Chagall and a Still Life by Vincent VAN GOGH sold easily. Vincent Van Gogh's Vase Aux Glaïeuls (51.2 x 38.8 cm) was actually the artist's first painting ever offered at auction in Asia. It sold for $9.1 million compared with $5.8 million for the same painting in 2016 in New York.

Very popular in Hong Kong (and in Asia in general), Georges MATHIEU has just renewed his auction record. The three Mathieu works offered on 9 October generated $3.4 million. Three others fetched $623 million the following day (in the day sale) taking the French abstract painter's total to over $4 million for 9 and 10 October in Hong Kong.
"New auction record for Georges Mathieu at $2.35 million for his monumental Tuz Gölü (1978)."
Georges Mathieu's previous auction record was hammered by Sotheby's Hong Kong on 2 December 2020 when his monumental (250 x 600 cm) oil-on-canvas, Souvenir de la maison d'Autriche, fetched $2.2 million (adding $400,000 to the record before that). His paintings have been offered by both Sotheby's and Christie's on the peninsula since 2014, but in the past year, Georges Mathieu has become one of the most popular signatures of their sales. The fact that his estate is now being managed by Perrotin and Nahmad galleries may well have something to do with the recent surge in prices.

Georges Mathieu: turnover at auction since 2000 (copyright Artprice.com)
.
Another French artist who sells well in Hong Kong is André BRASILIER. Currently 91, Brasileir's work has enjoyed substantial market exposure in the city for fifteen years and his works are now selling remarkably well. Last April, his oil-on-canvas Grande cavalcade camarguaise (2002) generated his current auction record of $470,250 (doubling its estimate). On 9 and 10 October last week, Sotheby's sold no less than four canvases by Brasilier, the best one fetching $154,000.


André Brasilier: price index growth (copyright Artprice.com)
.
72% of artists in Sotheby's HK Contemporary Sales were non-Asian!
The strategic shift towards an 'international offer' has been managed so well that Sotheby's is no longer afraid to offer non-Asian artists at its Hong Kong Contemporary Art sales. On 9 October last, they were even a significant majority with 23 non-Asians out of 32 artists in the catalog. In short, three quarters of Hong Kong's Contemporary art offer is now totally globally-oriented!
This shift tells us two things: first of all, that Asian collectors are now highly present in the market for 'international' Contemporary art, submitting high, but reasonable, bids. Second, that Hong Kong's sales are approaching, in terms of supply, those of New York, the primary 'historical' marketplace for Contemporary art. Artprice's latest Contemporary Art Market Report looks more closely at this historical development (The Art Market report by Artprice) after Hong Kong became the primary marketplace for high-end Contemporary art between the summer of 2020 and the summer of 2021, with no less that 129 Contemporary results above the million-dollar threshold, six more than the United States!
Today, the Hong Kong market is crucial for the world's top three auction houses: Phillips hammered a quarter of its Contemporary Art turnover there and the proportions were even higher for Christie's (33%) and Sotheby's (38%). And… the three firms are making every effort to further accelerate their growth in this market over the coming years.
Top results at Sotheby's HK Contemporary sales (9 October)
Jean-Michel Basquiat: Untitled (Red warrior) (1982), 195.6 x 198 cm
This past year, three remarkable Jean-Michel BASQUIAT (1960-1988) paintings each sold for over $35 million in Hong Kong. A less powerful painting than those three, the Red warrior offered last week 'only' fetched $20.9 million, a coherent price given its estimated range of $16 – 19 million.
Yoshitomo Nara: Under the Hazy Sky ( 2012), 194.8 x 162 cm
Yoshitomo NARA (1959) is the best performing Contemporary artist in Asia by auction turnover (2020/21) and his core market is Hong Kong which generates 80% of his turnover. This latest large-format acrylic offered at Sotheby's Hong Kong went for $8.8 million (within its estimated range). Remember that Nara's auction record was set in 2019 at nearly $25 million for his Knife Behind Back (2000).
Joan Mitchell: Untitled (c. 1967), 200 x 150 cm
Joan MITCHELL (1926-1992) is the top-selling female artist on the global fine art auction market (see: Joan Mitchell, the art market's leading female artist). The 1967 work offered at Sotheby's on 9 October exceeded its high estimate, reaching $8.4 million. This is her best-ever Asian result and her 15th best result worldwide. The same painting sold for $477,900 at Christie's New York in 2004, so its value has increased 1,654% in 17 years!