Max Beckmann, at the core of Germany's art market
[09/12/2022]

On December 1 at the Grisebach auction house in Berlin, Max Beckmann's Selbstbildnis gelb-rosa fetched over $24 million. We take a look at a major artist who accounts for a substantial share of Germany's art auction market.

Selbstbildnis gelb-rosa (Yellow-pink Self-portrait) is an extraordinary work for what it relates about our common history, but also for what it tells us about Max Beckmann's personal journey. The work is a self-portrait painted during the artist's exile in Amsterdam, where he went in 1937 after hearing Adolf Hitler give a speech condemning "degenerate" artists. It was during this same year 1937 that the Nazi authorities withdrew his works from German museums. In Holland, Beckmann begins a prolific decade in terms of production, but it is also a period of deep isolation..

Max BECKMANN gave the painting to his wife Mathilde, who kept it until her death in 1986. The self-portrait was then purchased directly from the Beckmann family by a lawyer from Bremen. It remained in a private Swiss collection for decades until the lawyer's family decided to part with it and then realized how much the work counted in Beckmann's production, and therefore in German art history.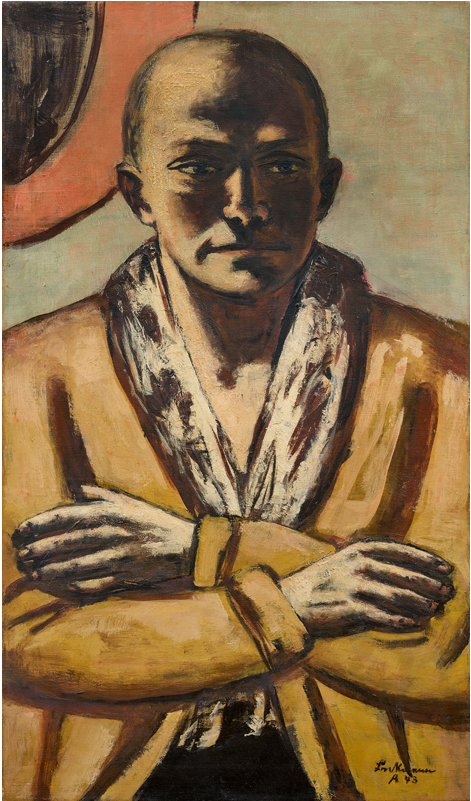 "When I first laid eyes on this museum-quality painting – which for me is among the finest and most striking of Max Beckmann's self-portraits – I too was mesmerized by its allure. When such an important work arrives on the art market it is a major event, not to mention a unique opportunity for collectors and museums around the world".(Bernd Schultz, senior partner at Grisebach)
Art historians all agree that this self-portrait is a work apart, carried by an unusual use of bright colors: yellow for the garment, and pink to define the outlines of a frame in the background. Beckmann's alarming posture – arms crossed – the quiet strength and dignity of his face: everything expresses the sovereignty of an 'artist king' who persists, despite the traps set for him at the time.
When the painting was consigned for sale, Grisebach's Director, Micaela Kapitzky said "No comparable work has been auctioned in Germany since 1945". And, indeed, its sale has taken the German art market into a new price dimension.
Its sale in Germany…
The seller's decision to consign such an important canvas to a German auction house was not an easy one, because works of this quality are generally sold through New York or London. The English capital accounts for the lion's share of Beckmann's auction turnover (56% of his total turnover over the last decade… before the sale of the self-portrait). The German market has also generated a third of the artist's turnover, but the previous highest result for one of his works in Germany was $6.4 million for Weiblicher Kopf in Blau und Grau (Die Ägypterin) (1942), another masterpiece by the artist (and the most expensive artist on the German art auction market).
By choosing to go through Grisebach GmbH rather than Christie's or Sotheby's, the sellers of Selbstbildnis gelb-rosa demonstrated their confidence in the German market. The stakes were indeed high since the painting was given the highest estimate for a painting ever offered in Germany. But the gamble paid off, and Selbstbildnis gelb-rosa became the most expensive artwork ever sold on the German art auction market!
Hierarchy of the German art market: the five most expensive works
Max Beckmann, Selbstbildnis gelb-rosa, $24.4 million (Grisebach, Berlin, 01/12/2022)
Max Beckmann, Weiblicher Kopf in Blau und Grau, $6.4 million (Grisebach, Berlin, 31/05/2018)
George de la Tour, A girl blowing on a brazier, $5.2 million (Lempertz, Cologne, 08/12/2020)
Max Beckmann, Anni (1942), $4.8 million (Grisebach, Berlin, 06/03/2005)
Gerrit Dow, Old man in his studio (1649), $4.9 million (Lempertz, Cologne, 05/12/2012)
The German art market owes three of its five best-ever auction results to works by Max Beckmann

.
Max Beckmann's Top 5 auction results
$45.8 million: Hölle der Vögel, Christie's London, 27/06/2017
$24.4 million: Selbstbildnis gelb-rosa, $24.4 million, Grisebach, Berlin, 01/12/2022
$22.5 million: Selbstbildnis mit Horn (1938), Sotheby's New York, 10/05/2001
$16.8 million: Self-Portrait with crystal Ball (1936), Sotheby's, New York, 03/05/2005
$8.1 million: Still-Life with Gramophone and Irises, (1924), Sotheby's London, 23/06/2014
Selbstbildnis gelb-rosa generated Max Beckmann's second highest auction result, and Germany's first-ever art auction result above the $10 million threshold.
.
Rising from $22.5 million in 2001 to $45.8 million in 2017, Max Beckmann's auction record has been firmly revised relatively recently. The 2017 result was hammered at Christie's in London for a work of unprecedented power and historical importance, Hölle der Vögel (Bird's Hell), an anti-Nazi fresco considered to have much the same role and importance in Beckmann's œuvre as Guernica has in Picasso's. The price it fetched put Beckmann in the world's Top 50 top-selling artists in 2017.
The appearance of such important canvases on the market inevitably prompts an immensely enthusiastic response which usually translates into an unprecedented price momentum. Because while Beckmann' work has not not always enjoyed an easy reception – his style can seem disturbing – he deserves recognition as one of the greatest figurative painters of modernity for the intensity of his work and for his commitment to representing a world undergoing calamitous upheaval.