Nicolas De Staël
[09/08/2010]

 

For the second time in fifteen years, the Swiss Pierre Gianadda Foundation has put on a major retrospective exhibition of the painter Nicolas de Staël (18 June – 21 November 2010).

Nicolas DE STAËL was born into a aristocratic Russian family (Baron Nicolaï Vladimirovitch Staël von Holstein) on 5 January 1914 in Saint Petersburg. After his parents died, he grew up in Brussels where he attended the Royal Academy of Fine Arts and the Académie des Beaux-Arts de Saint-Gilles. In 1938, he arrived in France where he studied painting under Fernand LÉGER and met numerous other artists of the era. Working prodigiously, it was not long before he became one of the key figures of the Paris School. In fifteen years of production, De Staël produced no less than a thousand paintings. On 16 March 1955, at the height of his career, he committed suicide.

His 1950s works are among the market's favourites from the Paris School. His top auction results are impressive compared with those generated by most other artists commonly classed in this category: De Staël has 20 seven-figure dollar results to his name (ZAO Wou-Ki nevertheless has 41) of which five were generated during the speculative bubble in 1989 and 1990. For fourteen year, the Parisian auction house Ader-Picard-Tajan held his auction record equivalent to $1.9m for the painting Syracuse (dated 1954). This record was broken in 2004 in London when Méditerranée fetched £1.15m ($2.1m) at Sotheby's and then again in 2008 with Marseille sous la neige which fetched £1.5m (nearly $3m) at Christie's in London. Like Syracuse, these two paintings were executed in 1954, a key year in which the artist's technique changed, becoming more fluid (diluted oil spread on the canvas using cotton or gauze), and also when his works were exhibited by Rosenberg in New York.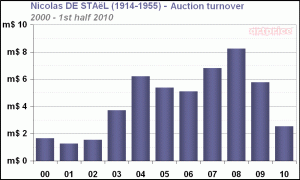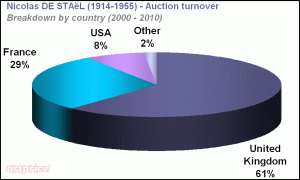 His 1940s works – more abstruse and abstract – do not fetch such high sums. At the time, De Staël was still searching for his artistic language and was exploring abstraction from a variety of different angles, influenced by other artists from the Paris School. These earlier paintings are accessible in a lower price range, similar to the prices paid for works by Jean-Paul RIOPELLE or Serge POLIAKOFF. In effect, the prices of De Staël's works rise in steps corresponding to the painter's artistic evolution. His oil paintings from 1947/48 fetch $200,000 to $300,000; the more constructed abstract works painted in 1949 fetch between $300,000 and $1m and thereafter his paintings rise in value up to the $2m for the two works from 1954.
Different markets, different prices…
At the end of the 1980s, London was neck and neck with Paris in sales of De Staël's best works. Nowadays, London has gained the upper hand generating 61% of the artist's global revenue from 29% of his auction transactions, whereas France generates "only" 29% of his revenue from 46% of the lots offered. Nicolas De Staël's work is therefore more fervently collected in London. For example, his Composition dated 1949 sold for the equivalent of $586,350 in 2005 in Milan (Farsetti, 26/11/2005) and then fetched twice that sum seven months later in London (Christie's, 22 June 2006). Between January and August 2010, London sold three of his works for a total of $2.1m while Paris sold two works for a total of approximately $400,000. As far as De Staël's rare lithographs are concerned, Paris is the leading market (between $1,500 and $6,000 on average) and it offers more De Staël drawings than can be acquired elsewhere, often accessible for between 10 and 30 thousand dollars. The prices go considerably higher if the drawings include collage work: expect to pay between $80,000 and $120,000.