Old Master paintings: 17th century Northern Schools
[04/12/2005]

 

In the segment of Old Master works, the Dutch and Flemish Masters command some of the highest auction prices. Peter Paul Rubens' Le Massacre des Innocents currently holds the auction record for this segment after fetching GBP 45 million on 10 July 2002 at Sotheby's in London. Indeed, this extraordinary sale occurred at the end of a period (1997 – 2002) in which Ruben's price index gained 411%. However, since then, the Flemish Master's index has dropped sharply by 48%. Another exceptional work that recently reappeared on the market was Young Woman seated at the Virginals by Jan Vermeer Van Delft (1632-1675) fetching GBP 14.5 million on 7 July 2004 – again – at Sotheby's in London. This is currently the second highest price for a Northern School painting just ahead of Portrait of a Lady, Aged 62, Perhaps Aeltje Pieterdr.Uylenburgh (1632), an oval panel work by the Dutch Master Rembrandt (1606-1669) that generated GBP 18 million in December 2000 in London.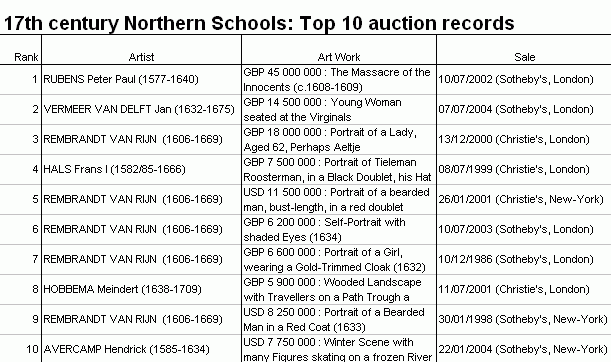 In Paris, prices tend to be significantly lower. Only 5% of Northern School paintings reach EUR 100,000, and 25% of Paris auction sales of works in this segment do not even fetch EUR 3000. Due to the diverse quality of the works offered in this category, Old Masters do not always find buyers at Paris sales. Between those whose authorship is difficult to determine with certainty, and those that have simply been badly preserved, the market is highly selective. Indeed, half of the works offered in catalogued auctions between 1 January and 30 October 2005 were bought in. Nevertheless, when high quality works come up for auction in Paris, the figures can sometimes exceed the EUR 1 million mark. This year, the top-selling Old Master has so far been La Danse des Noce by Brueghel II (c.1564-1637/38 ), (aka. Brueghel d'Enfer). This painting generated EUR 1.3 million at Tajan on 21 June after receiving a high-estimate of EUR 1 million. Three days later at Piasa, another panel work by the same artist fetched EUR 650,000 after being estimated at between EUR 150,000 and 200,000.
When the origin of a work cannot be guaranteed, it may end up selling far below its estimate. For example, Allégorie de la Justice, a very large painting attributed to Adriaen Van Nieulandt I (1587-1658) and initially estimated at EUR 4,000 – 6,000, sold for only EUR 1,700 at the Crédit Municipal de Paris on 7 April. However, "attributed" works occasionally generate outstanding surprises. In March 2000 un Paysage panoramique avec le Calvaire et vue du Jérusalem, an oil on copper attributed to Jan Brueghel I (1568-1625) and estimated at FFR 40,000 – 60,000, actually sold at Tajan for FFR 450,000 (EUR 68,600). More recently, on 6 April last, an oil attributed to Anthonius Van Dyck (1599-1641) and estimated at EUR 20,000 – 25,000 sold for EUR 65,000 at Libert (Paris).