Third time around must have been too much. This was the third year running that Thierry de Maigret had played host to collectors of photojournalism. His initial sale on 15 November 2001 was a first in the genre, and took EUR 250,000, with 124 lots finding buyers. At the time, James NACHTWEY's eight images, taken in the rubble of the World Trade Center after the 11 September terrorist attacks, fetched EUR 70,000.
Photojournalism Price Growth (1997-2003)Base January 1997 = 100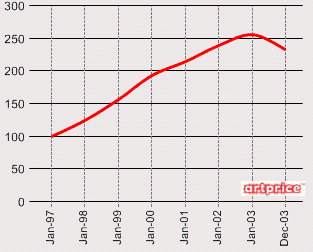 Last year's took place when the price index was at its peak (having risen 174% between 1994 and November 2002), and brought in EUR 183,000. It was a marathon, with the number of photos on offer matching market demand (see ArtMarketInsight of 7 November 2002). But this time around the price index has dropped, in parallel with the market craze for photography in general and photojournalism in particular, plunging this fledgling segment into crisis. Particularly vulnerable are the prices for young photographers, an extremely volatile niche that is now being affected by major doubts about quality. And it was this new wave of artists that formed the heart of this year's auction. None of the 190 lots sold were by sure-fire names, such as Robert CAPA, Henri CARTIER-BRESSON and Robert DOISNEAU, so the 2003 sale fetched only EUR 25,000, with no-sales at 60%.
The first few lots set the tone for the day. Catherine LEROY's six shots of the Vietnam war sold for well below their estimates. Estimated at between EUR 2,500-3,000, the first lot went for just EUR 1,600. Lot 8 by the same photographer was bought in. Thereafter the no-sales snowballed, with most of the works falling short of their estimates. The top price, EUR 2,500, was for Françoise HUGUIER's Les 3 grâces, Paris, janvier 1998.