The break-up of the Pierre Miquel collection, between 29 March and 2 April 2004 at Rossini (Drouot Richelieu, Paris), involved nearly a thousand works, mainly French nineteenth century landscapes. It was a huge success, with a total of EUR 2.7 million changing hands in the five auction sessions.
Although some of the canvases with the highest estimates failed to find a buyer, there were a string of surprises from works by less celebrated artists, such as the Paysage d'Auvergne attributed to Achille Etna MICHALLON, which went for EUR 78,000 off an estimate of EUR 5,000-8,000. Even the collection of more than fifty oils by Paul HUET, whose price level near halved between 2000 and 2003, attracted enough interest to make for fierce bidding. For instance, his Étude de mer dans la Manche, 1861, estimated at EUR 8,000-12,000, finally went for EUR 32,000. A few lots by Théodore ROUSSEAU – notably La Mare aux Fées en forêt de Fontainebleau, which sold for EUR 38,000 off an estimate of EUR 6,000-10,000 – brought confirmation of the rise in his price level, up by 200% since 1997 and by 7% since 2002.
The Barbizon School / Price of paintings
(January 1995 – April 2004)Artprice Index base January 1995 = 100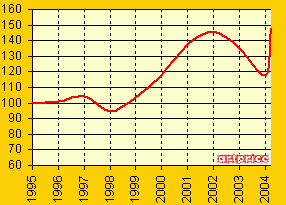 After two years of declining prices, the market for French nineteenth century landscapists seems to have found a fresh wind. There is a clear upsurge in interest for artists of the Barbizon school, trailblazers for the genre, whose works are now selling for the same prices they commanded at the movement's 2001 index peak.The Barbizon school boasts such celebrated names as Jean François MILLET and Camille Jean-Baptiste COROT, whose paintings, increasingly rare at auction, can go for several million euros. But most of the movement's landscapes are by less well-known artists, and today, 75% still sell for less than EUR 10,000. The record is held by Jean-François Millet's La cardeuse, knocked down at USD 3.1 million on 22 May 1996 at Christie's New York.This kind of price is only ever seen in London and New York these days, but France hosts 60% of the lots sold. Besides Drouot, pieces are very common in sales at Fontainebleau and Barbizon. This is where you can find greater numbers of drawings and less celebrated artists, such as Constant TROYON, Jules DUPRÉ orNarcisse Virgile DIAZ DE LA PEÑA.