Sotheby's… stronger together!
[15/12/2020]

As the year draws to a close, the major auction houses have increasingly pursued a 'big mix' (all periods together) strategy. This was definitely the case with Sotheby's recent New York sale which offered a small but solid catalog of works completely unshackled by divisions into traditional 'periods of creation'. The art from the past alongside extreme novelty… Impressionism rubbing shoulders with ultra-Contemporary works.

The Sotheby's sale on 8 December contained 25 lots and was more hybrid than ever. Only 25 lots… but all very carefully selected and making for a highly unexpected collection of some of the most in-demand signatures on the art market. Breaking with tradition and temporal boundaries, the catalogue put Glenn Ligon alongside Marc Chagall, Matthew Wong alongside Claude Monet, Jenny Saville opposite Henri Matisse… offering a totally uninhibited journey through 150 years of artistic creation.
An evening at $63.4 million
Of the 25 lots offered, few remained unsold (8%), but… five lots were withdrawn before the sale, including a work by Milton Avery which could have fetched $3 – 5 million and another by Edvard MUNCH carrying a $3 – 4 million estimate. The works in question probably  generated insufficient interest before the auction began and were withdrawn to prevent them being 'burned'.
A far cry from the exuberance of recent years at New York's major prestige sales of Impressionist, Modern and Contemporary Art, the end result was nevertheless solid considering the lots offered. Sotheby's took a total of $63.4 million on 8 December versus a pre-sale estimated total of between $40.1 and $58.6 million.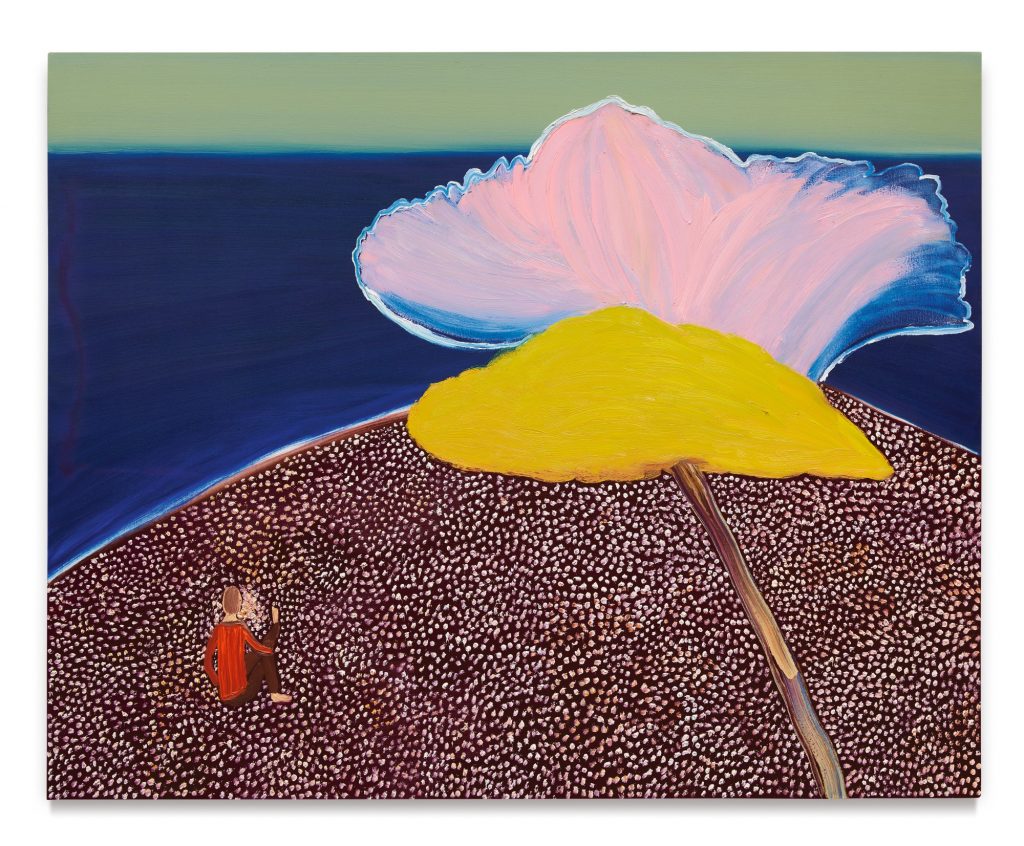 Matthew Wong, Pink Wave 2017
.
The year's best result for Alexander Calder…
One work shone substantially brighter than the others: Mariposa, a superb Alexander CALDER mobile with red, yellow and black "petals" dancing in the air. Estimated at 6 to 8 million dollars, the mobile went 10 million better, fetching a final price of $18.2 million. It was Calder's 4th best-ever result for a work that was purchased the year it was created (1951) for the collection of the Neiman Marcus company, whose founder, Stanley Marcus, has been forced to sell his corporate collection due to bankruptcy.
A reasonable Picasso…
The only work estimated above the Calder mobile was Pablo PICASSO's Buste de femme assise (1962) which fetched $11.2 million (7 million below Mariposa). But if we look at the painting's sales history, it shows a remarkable value accretion. Twenty-seven years ago, Christie's sold the same Buste de Femme for $481,000 in London. The value of this astonishing portrait of Jacqueline has therefore risen by more than $10 million, which, in percentage terms, is +2,224% in just under three decades.
Matthew Wong: devoured by an avid post-mortem market
Among the market's latest stars, two were conspicuously present in the Sotheby's catalogue: Amoako Boafo and Matthew WONG. The Wong painting, Pink Wave, was accompanied by a catalogue entry comparing his style to that of Peter Doig and Van Gogh. These 'forceful' assertions supported a high estimate of $400,000… which is more or less the value of Picasso's Buste de femme assise in the early 1990s.
But Pink Wave went far beyond its estimate to reach the astonishing price of $2.3 million,  undoubtedly propelled by a spectacular record hammered just a few days earlier for another painting by the young prodigy. On 3 December, his River at Dusk (2018) – estimated around a million dollars by Phillips in Hong Kong – sold for nearly $5 million! An exorbitant price for an artist whose work was never auctioned before 2020.
Having taken his own life last year at the age of 35, Matthew Wong has been hailed as "one of the most talented painters in his generation » by New York Times art critic, Roberta Smith, and his recent results prove – if proof was needed – that there still exists an avid "post-mortem" market eager to generate new myths.