The 18 artworks that have fetched over $100 million
[02/08/2022]

This year another work exceeded 100 million dollars at auction, bringing the total number of masterpieces valued above this price threshold to eighteen! In this article, Artprice provides an updated ranking of the most-valued artworks on the global auction market.
> The first $100 million
In 2004 the art auction market crossed a major threshold when it hammered its first-ever nine-digit result for an artwork: over 100 million dollars for Pablo Picasso's famous Garçon à la pipe, painted in 1905 when the artist was just 24. The American collector John Hay Whitney had acquired the work in 1950 for $30,000.
> The highest number of results above $100 million
Pablo Picasso is the only artist to have generated five results above the $100 million threshold, including a record at $179 million. That record was hammered in 2015 at Christie's for Les femmes d'Alger (Version 'O'), a major painting from a series of fifteen numbered from A to O created in 1955 and purchased in its entirety by Victor and Sally Ganz at Galerie Louise Leiris (Paris) in 1956 for $212,500, (roughly $2 million in today's money).
> The most expensive sculptor on the market
Alberto Giacometti is clearly the market's most expensive sculptor with three works having fetched 9-digit results between 2010 and 2015. Giacometti's auction record was set in 2015 when his L'Homme au doigt (1947) elicited the world's highest auction bid for a sculpture ($11 million beyond its high estimate) in just a couple of minutes. This slender two-meter tall bronze exists in six copies, one of which is in London's Tate Gallery and and another in New York's MoMA. The copy sold on 11 May 2015 had remained in an anonymous private collection for 45 years, a godsend for the high-end auction market which is particularly sensitive to the scarcity effect.
> The most recent 9-digit result
Andy Warhol's Shot Sage Blue Marilyn (1964) sold for 195 million dollars on 9 May 2022, approximately 40 years after its creation. Touted by Christie's as "the absolute pinnacle of American Pop" and as one of the greatest paintings of all time "along with Botticelli's Birth of Venus, da Vinci's Mona Lisa and Picasso's Demoiselles d'Avignon, the freshly colored portrait dwarfed Warhol's previous record of $105.4 million for Silver Car Crash (Double Disaster) (1963) hammered at Sotheby's in 2013. Above all, the Marylin with blue eyelids became the top selling work of 20th century art in auction history!
> The leading auction house
Can we really speak of a single leader when the two most powerful auction houses are so close: Christie's has hammered nine of the 18 results above $100 million and Sotheby's has hammered eight. Only one other auction company has crossed the $100 million threshold and that is Poly International, a Chinese auction house that sold a work by Qi Baishi for $140 million in 2017.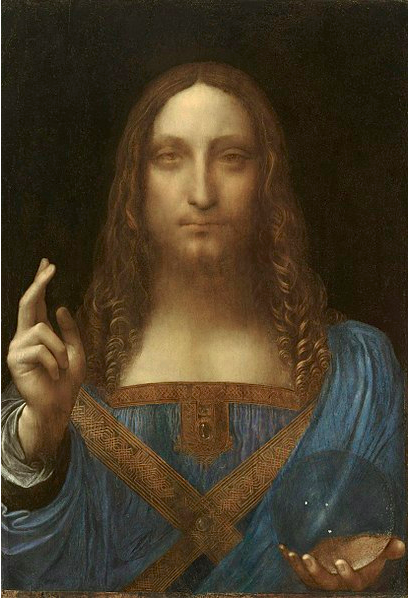 $450.3 million: LEONARDO DA VINCI, Salvator Mundi (c.1500)
Christie's, New York, 15/11/2017 (picture above)
$195 million: Andy WARHOL, Shot Sage Blue Marilyn (1964)
Christie's, New York, 09/05/2022
$179.36 million: Pablo PICASSO, Les femmes d'Alger ('O' Version) (1955)
Christie's, New York, 05/11/2015
$170.4 million: Amedeo MODIGLIANI, Nu couché (1917-1918)
Christie's, New York,11/09/2015
$157.15 million: Amedeo MODIGLIANI, Nu couché (sur le côté gauche) (1917)
Sotheby's, New York, 05/14/2018
$142.4 million: Francis BACON, Three Studies of Lucian Freud (1969)
Christie's, New York, 11/12/2013
$141.28 million: Alberto GIACOMETTI, L'homme au doigt (1947)
Christie's, New York, 05/11/2015
$140.9 million: QI Baishi, Screens of landscapes (1925)
Poly International, Beijing, 12/17/2017
$119.9 million: Edvard MUNCH, The Scream (1895)
Sotheby's, New York, 02/05/2012
$115 million: Pablo PICASSO, Girl with a flower basket (1905)
Christie's, New York, 08/05/2018
$110.48 million: Jean-Michel BASQUIAT, Untitled (1982)
Sotheby's, New York, 05/18/2017
$110.7 million: Claude MONET, Meules (1890)
Sotheby's, New York, 05/14/2019
$106.48 million: Pablo PICASSO, Nude, Green Leaves and Bust (1932)
Christie's, New York, 04/05/2010
$105.4 million: Andy WARHOL, Silver Car Crash (Double Disaster) (1963)
Sotheby's, New York, 13/11 /2013
$104.1 million: Pablo PICASSO, Garçon à la pipe (1905)
Sotheby's, New York, 05/05/2004
$103.69 million: Alberto GIACOMETTI, L'homme qui marche I (1960)
Sotheby's, London, 03/02/2010
$103.4 million: Pablo PICASSO, Femme assise près d'une fenêtre  (1932)
Christie's, New York, 13/05/2021
$100.9 million: Alberto GIACOMETTI, Chariot (1950)
Sotheby's, New York, 11/04/2014