Top results during Armory week
[10/03/2020]

New York's Armory week attracted large crowds last week, generating a satisfactory start to 2020's global calendar of 'arty' events.

In the framework of New York's much anticipated Armory Week, all the fairs, exhibitions, auctions, conferences and private tours attracted good audiences. The enthusiasm was generally reassuring for the global Art Market after the cancellation of Art Basel Hong Kong and Art Dubai fairs. The American market has remained both stable and optimistic and all the planned events have been maintained.

As regards the major museums, the Donald Judd retrospective is occupying much of the top floor of the Museum of Modern Art and Gerhard Richter's work can be seen at the MET Breuer. For its part, the Whitney Museum of American Art has been celebrating Mexican mural painting and the New Museum has devoted two floors to Peter Saul's highly colorful and acerbic paintings, and another floor to portraits by the African American artist, Jordan Casteel, one of the market's 'revelations' last year. Casteel, in his 30s, was the world's 13th most successful under-40 artist on the auction market during 2019. His success was confirmed three weeks ago in London when Christie's hammered a superb new record of $670,000 for his canvas Mom (2013).

In general, the latest New York auction results confirmed the strong demand for African-American artists, a trend that was already well underway last year. There was palpable enthusiasm during Christie's Past & Present sale (5 March), where artists Alma Thomas, Charles White, Nina Chanel Abney and Derek Fordjour all exceeded their estimates.

Alma Thomas – Records

Chronological progression (Copyright Artprice.com)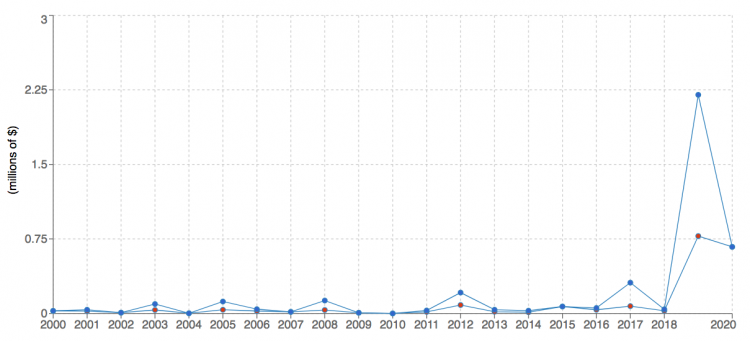 Flash of Spring
Estimated $450,000 – $650,000 / Sold for $819,000
Shown on the cover of Christie's Past & Present sale catalogue, Alma THOMAS's canvas Flash of Spring was well received, exceeding its high estimate by 26%. Discriminated as a black artist during her lifetime, the importance of her work was subsequently recognised, particularly after some of her works were selected by the Obama couple to hang in the White House. Today, demand for her work has never been higher. Set last November, her auction record is $2.6 million (A Fantastic Sunset).
Charles White (1918-1979)
Brother John Sellers
Estimated $80,000 – $120,000 / Sold for $187,500
White's work received good publicity from the traveling retrospective (2018-2019) organised to celebrate the centenary of his birth. The exhibition triggered renewed demand for his work and his Nobody Knows My Name #1 (estimated < $150,000) fetched $485,000 in October 2018 at Swann. In November 2019 Sotheby's hammered a new record for the artist at $1.7 million (Ye Shall Inherit the Earth). Charles WHITE has clearly won the hearts of American collectors.
Untitled (XXX NO! COP)
Estimated $70,000 – $100,000 / Sold for $125,000
Born in 1982 in Chicago, Nina CHANEL ABNEY explores notions of race, gender, pop culture and politics in her work. The Jack Shainman and Mary Boone galleries in New York exhibited her work simultaneously in 2017, the year of her first retrospective Nina Chanel: Royal Flush, presented at the Nasher Museum of Art at Duke University. Her paintings have been fetching over $100,000 since last year (2019).
No. 93
Estimated $40,000 – $60,000 / Sold for $81,250
This result, at double the low estimate, rewarded a typical Derek FORDJOUR portrait dealing with African-American identity. Fordjour gained prominence after making a mural for the Whitney Museum in 2018. Before that commission, his works traded for less than $10,000 at auction, but his prices have now soared. Now enjoying high demand, several of his works fetched over $100,000 at the end of 2019.
Among the African-American works on offer, only one work, a painting by Nathaniel Mary Quinn (estimated $120,000 – $ 180,000) failed to sell within (or above) its estimated range. We note the successful sale of two works by Robert Indiana that both fetched over a million dollars, and paintings by Eddie Martinez and Kenny Scharf sold for over $500,000.
Over at Sotheby's, two highly anticipated paintings, one by Georgia O'Keeffe, the other by Wayne Thibault both found buyers, while Phillips focused on the most in-vogue signatures with its New Now sale on 4 March. The sale posted an unsold rate below 10%, suggesting the selection was particularly in line with current demand. New Now's catalogue included works by Nicolas Party, Tschabalala Self, Jonathan Gardner (with an auction debut at $125,000!) and Genieve Figgis, whose prices have all evolved very rapidly in recent months.
Among the best results of the week, we note the $400,000 paid for a work by Noah Davis – a tribute not just to the work, but also to the artist who died in 2015.
In Search of Gallerius Maximumianus
Estimated $60,000 – $80,000 / Sold for $400,000
A 'meteoric' artist whose life was too short (he died of illness at 32), Noah DAVIS was recently honored by a posthumous exhibition at David Zwirner's New York gallery. Followed by major collectors including Mera Rubell, who bought several of his works, Noah Davis generated one of the best results at the New Now sale. His work was as original as his decisions as an artist: having fallen out with his gallery owner, Davis continued to 'represent himself' by creating the Underground Museum in Los Angeles. "He turned a negative into a positive … he didn't have a pool, so he bought an ocean" said his artist friend Henry Taylor after Davis passed away.