Tribute to Peter Beard
[29/04/2020]

Peter BEARD – a great American photographer with a strong passion for wildlife – was found dead on 19 April 2020 in Camp Hero National Park, Montauk, at the tip of Long Island. Suffering from senile dementia, he had disappeared three weeks earlier. He was 82 years old. "He died where he lived: in the wild," said his family in a statement.

Nature was indeed Beard's thing, particularly landscapes and African wildlife. He started wildlife photography in the great parks of Kenya and Uganda in the early 1960s. His photos drew attention to the horrors of animal poaching and the constant shrinking of animal habitats. He obsessively photographed the 30,000 starving elephants in Tsavo Park, the skeletons of zebras, hippos, rhinos… and the vultures. In 1965 he published his first book, The End of the Game, that came to be considered a reference work and was a poignant and powerful testimony of African reality with photographs, texts, drawings and supporting documents.
"Extreme beauty is extreme beauty" (Peter Beard)
In March 1968, Beard took one of his most emblematic photographs, that of two orphaned cheetahs in Mweiga, Kenya, which he subsequently used as the basis for other works. Indeed, he reworked the cliché on numerous occasions with the addition of words, collages, feathers, blood and snake-skins and made lots of drawings of it. His obsession with the image seemed tireless, constantly renewing itself. When he was not augmenting his photos with his own drawings, Beard invited other artists to do the same.
One version of the two orphaned cheetahs – Orphaned Cheetah Cubs – was re-drawn by Mathenge & Kivoi (and fetched $449,000 at Christie's on 10 March 2013). Another, embellished by artists Solomon Wamisigo and Esta Njoki, reached a record price of $672,500 at Christie's in 2017.
Dividing his life between Kenya and New York since 1972, Peter Beard flipped from one world to another. In New York he was friendly with AndyWarhol, Salvador Dali and Francis Bacon who painted Peter several times (see Three studies for a portrait (Peter Beard), a triptych that Christie's sold in 1988). Moving seamlessly from the African wildlife to New York's jet-set, Beard combined the two extremes in several shots, including that of the famous 'top model' Veruschka von Lehndorff, photographed for Vogue attaching a rhinoceros in the national park from Tsavo East in 1964. A later print of the photo, enhanced with blood, fetched $27,500 at Christie's in 2012 (Veruschka von Lehndorff and Galo Galo Guyn, Hunting Block 29, Capturing Rhino).
His wildlife photographs were published in newspapers and magazines like Vanity Fair, The Sunday Times, International Herald Tribune, Architectural Digest and LIFE magazine, and his first exhibition was hosted in 1975 at the Blum Helmande gallery in New York. Two years later, he had a solo show at the International Center of Photography in New York. In 1996, the Centre National de la Photographie in Paris organised a retrospective of his work. His most recent exhibition, Peter Beard: Last Word From Paradise, was hosted at the Guild Hall Museum in East Hampton, New York, in 2016.
Most expensive works:
His large and 'enhanced' silver prints fetch between $250,000 and $700,000
Price of enhanced polaroids:
between $5,000 and $25,000 on average
.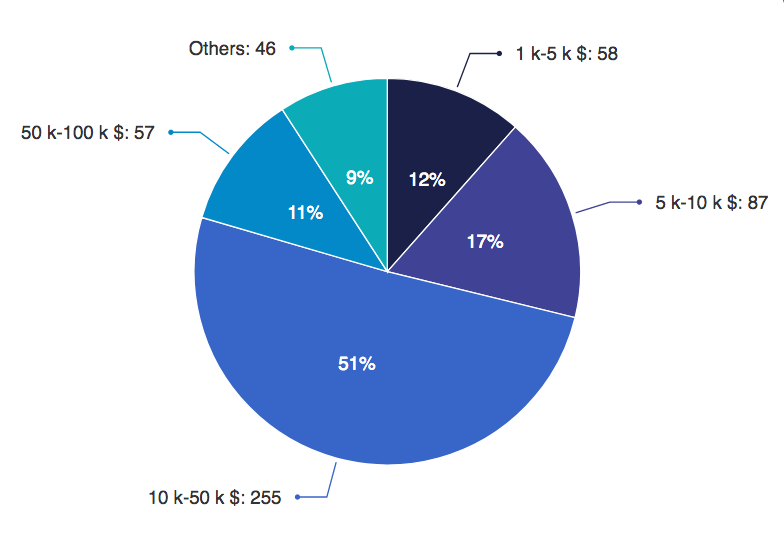 Distribution by price segment. Number of lots sold (2010-2020)