Ulla Von Brandenburg occupies the Palais de Tokyo
[04/08/2020]

The spectator's fantasy: to cross the curtain that separates the pit from the stage and become an actor! The photographer's fantasy: to cross the lens and find himself in the scene being captured. Via a succession of large swathes of colored fabrics, pierced by large circles, evoking both the heavy theatre curtain and the focal length of a camera, the public can actually realise and enjoy this double fantasy.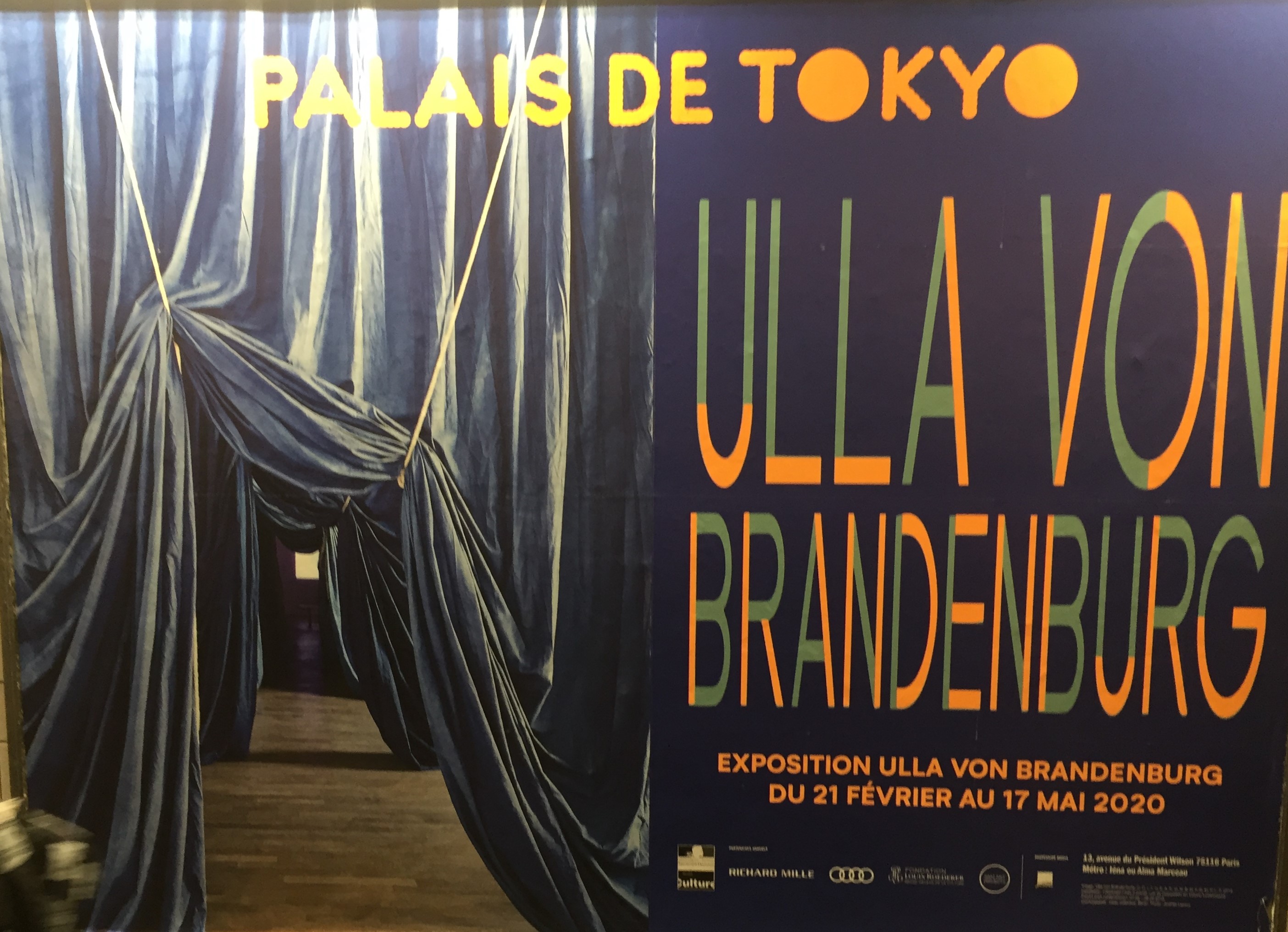 After Ugo RONDINONE and Tomas SARACENO, the Palais de Tokyo in Paris has decided to give Carte Blanche to Ulla VON BRANDENBURG. In 2012, for the same museum's reopening, she lined the Agora with colors where the public could already glide over the surface of her work and make it their own. Born in 1974 in Karlsruhe and living in Paris since 2005, Ulla von Brandenburg has had her solo show titled "Le Milieu est bleu" extended until 13 September, Covid 19 oblige. Conscious of the heavy symbolic significance of the Palais de Tokyo and the museum's imposing architecture, she worked meticulously on models before actually trying to fully reclaim the space. "The fabric allows me to camouflage, to hide, to dress the white cubiness of the museum and thus to change its value systems and its frames of thought. I use fabrics to create spaces in which we can pretend to be elsewhere, to fall, so to speak, into other worlds. (…) In a space where curtains are hung, the separation between interior and exterior, or between different worlds, becomes blurred. And this vagueness leads us to wonder where we are."
That's definitely the question the public will pose upon exiting the first entrance hall where it can finally cross a fourth theatrical wall. As is often the case with Ulla von Brandenburg's work, visitors will be actively involved in her work that tends towards total art, bringing together sound, dance, visual arts and video. The fabric – a medium that this artist is highly familiar with having initially trained in scenography – allows her to create ex nihilo a "soft architecture": for her, it is the material par excellence, malleable and changeable, one that is in contact with our skin from the diaper to the shroud.
Von Brandenburg attaches great importance to these textiles, certain elements of which she makes herself, or recovers, for example, from the National Theater in Warsaw, and which travel with her from exhibition to installation. They allow her to create new spaces and to create oneself just as children would improvising a cabin… a space that is their own. Every Saturday throughout the duration of the exhibition, five dancers (from the Théâtre du Peuple in Bussang in the Vosges and who reappear in the film which serves as the central pivot of the exhibition) make and unmake the spaces, in a sort of ritual, by moving the objects placed there for their symbolism: the ribbon as a link between our world and other dimensions, traditional fishing traps or giant pieces of chalk. Apart from these weekly performances, it is the visitor who plays the role of performer.
.
Von Brandenburg's work is characterized by a diversity of materials, techniques and media. Perfectly mastering the codes of scenography, nourished by literature, art history and architecture but also psychoanalysis, spiritualism and magic, she borrows as much from popular arts and traditions as from the mechanisms of photo / video and theater to explore new worlds, often entirely 'interior'. Masks, costumes, sets and accessories from different popular traditions are for her instruments of transgression and denunciation of norms and hierarchies.
Internationally recognized since her nomination for the Marcel Duchamp Prize in 2016 (finally won by Kader ATTIA), her work has been the subject of numerous solo exhibitions such as a recent exhibition at the MRAC in Sérignan (2019) and another at the Whitechapel Gallery in London (2018). Ulla von Brandenburg is also a regular at biennials; she was at the Venice Biennale in 2009 with an installation titled Singspiel mixing architecture, video, contemplation and visitor interaction. In 2011, with Kulissen, she hung huge stage curtains in thick crumpled paper, in the colors of peonies, at the entrance to the Sucrière for the 11th Biennale de Lyon. In terms of gallery representation she is supported by Art:Concept in Paris, the Pilar Corrias gallery in London, the Produzentengalerie in Hamburg and the Meyer Riegger gallery in Karlsruhe.
Naturally, her creations, often large format installations, are rare at auction, despite her worldwide recognition. Her market is based on a small volume of watercolors, three of which, all dating from 2015, were put on sale at Van Ham on 10 June last. A superb mixed-technique diptych called Tanz 1 & Tanz 2 fetched over $24,000, well above its high estimate of $13,000.