Video art – the moving image
[19/09/2007]

 

The artist, according to Wassily Kandinsky's time-honored expression, is 'the child of his time'. So what could be more normal than to appropriate contemporary technologies, in addition to the images and ideas of one's era. The boom of television during the 1960s awakened artists, in the United States as in Europe, to the possibilities of a 'video art'. For nearly fifty years, artists have been exploring the many qualities video has to offer in terms of manipulating the image, narrative power and the temporal dimension.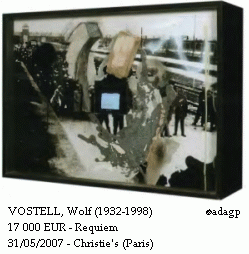 Video art had its origins with Wolf VOSTELL who, moreover, worked extensively outside this artistic medium in that he was also part of Fluxus and one of the early poster artists with Raymond HAINS, Jacques VILLEGLÉ and François DUFRENE. Germany, his country of birth, realizes 79% of transactions. American and British admirers of his work must follow the German sales as well as those in France and Spain where, respectively, 12% and 5% of sales take place. His works remain affordable with 90% changing hands for less than EUR 5,200. Demand is, however, increasingly strong for the rare video installations put up for auction: in May 2007, for example, Requiem forced the bidding up to EUR 17,000 at Christie's (Paris)… a new record for the artist.
Another pioneer of video expression, Nam June PAIK's reputation is established with collectors the world over: the Americans and British realize 40% of transactions, while France, Germany and Switzerland sell 45% of his work at auction. He started to experiment with distorting the image during the 1960s and devoted himself to creating cybernetic robots composed of monitors as of 1985. Depending on the size of installation and the number of monitors involved, the hammer comes down at between EUR 20,000 and 100,000 on average. May 2007 was a record month for video art since Paik achieved his price record 4 days before that of Vostell: a Christie's Hong-Kong sale of an anthropomorphic televisual installation, Baby Buddha, culminated at HKD 2.3 million, nearly EUR 219,000.Minor works are, however, accessible at between EUR 1,000 and 3,000, like the robot comprised of a camera and other metal objects, auctioned for USD 2,654 dollars (EUR 2,180 euros, Phillips, de Pury & Company NY) in April 2006.
Despite his leading role in video art history and his good results, Paik's price level remains below that of Bruce NAUMAN, his junior by 9 years. Indeed, Nauman is one of the most sought-after artists on the contemporary scene. Wealthy collectors are ready to spend one or even several million dollars for the artist's installations, which do not, moreover, always use video. In November 1997, for example, Sotheby's sold the gigantic Good Boy, Bad Boy (neon, glass, metal, 37.5 x 349.5 x 548.5 cm) for USD 2 million. For one tenth of this sum, a collector secured a video installation with the same title in May 2007 at Christie's NY. The latter work, edited in 40 examples, smashed its estimated range of USD 40,000 to 60,000, selling for USD 210,000 (close to EUR 155,000).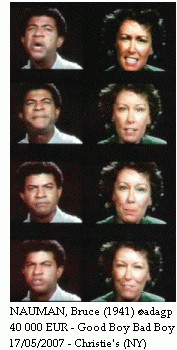 Amongst the young generation of 'multimedia' artists, Pipilotti RIST, Gary HILL, Tony OURSLER, Pierre HUYGHE, Dominique GONZALEZ-FOERSTER, Bill VIOLA or Pierrick SORIN are certainly benefiting from a wider following, although it is early days for their sale room market. For example, the two multimedia installations by Pierrick Sorin to come up at auction to date failed to find a buyer. As for Gary Hill, Pierre Huyghe or Dominique Gonzalez–Foerster, fewer than 10 of their works have, so far, been auctioned.
Bill Viola has been more successful, having achieved an impressive auction room debut on 27 June 2002 with Incrementation, which sold for GBP 40,000, the equivalent of EUR 62,200. The year of this first sale, a video installation, Going Forth By Day (2002), was exhibited at the Solomon R. Guggenheim Museum in New York, proof that video art can reach particularly high prices when work from artists showcased by cultural institutions is auctioned.
However, you'd have needed to wait nearly 20 years after his first individual show for the work to appear in the sale room, demonstrating the difficulty video art and installations have in penetrating the auction world. Despite his reputation, only 6 video works by Viola have been sold in the past four years (between 2002 and 2006).