What Christie's has in store for us in May…
[04/05/2021]

A clear sign the art market is returning to its pre-pandemic condition, the catalogues for Christie's mid-May sales see the return of major masterpieces… in number, in diversity and in price…

Whereas all the indicators were in the red last year with a constrained and impoverished market, the selection of Modern and Contemporary works due to be sold this month shows that collectors and dealers are ready to part with major works, which in turn suggests they have confidence in both the market's appetite and in the stability of valuations.

But before looking at the masterpieces themselves, we want to take a quick look at the new sales strategy Christie's has adopted.
A new market nomenclature: yes… but no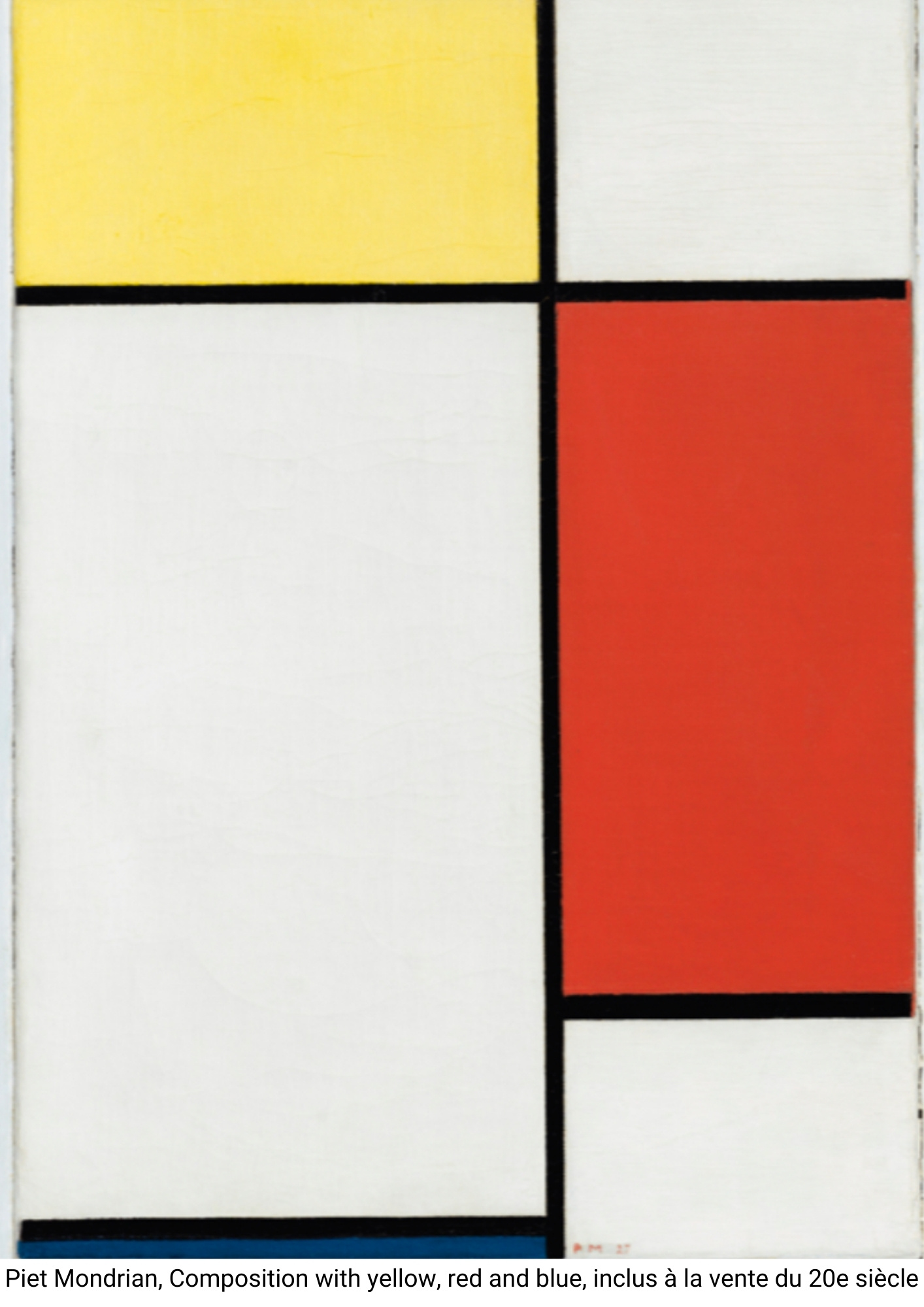 Christie's appears to have revised its sales methodology by breaking with the traditional market segmentation. Henceforward it will be offering sales dedicated to 20th Century Art and 21st Century Art, replacing the traditional nomenclature of "Impressionist & Modern Art" and "Post-War & Contemporary Art".
Whether or not this 20th/21st division will stick or become widely accepted remains to be seen, but it does seem to be in line with recent trends, especially since the covid pandemic helped accelerate the increasing mixity of works in auction sales. In Artprice's latest Global Art Market Report, published at the beginning of this year, we already drew attention to the growing hybridization of catalogues and sales:
"If the recipe is not new (da Vinci's Salvator Mundi fetched $450 million during a Christie's Contemporary Art sale in 2017…), the mixing of genres and eras has never been quite so 'uninhibited' or quite so 'code-breaking': Christie's ONE sales covered all 20th century art in July and December. Sotheby's From Rembrandt to Richter mixed literally all eras in July. A dinosaur (T-Rex) named Stan appeared in a prestige Christie's art sale in October and three Alfa-Romeo prototypes were offered in a Sotheby's Contemporary Art sale the same month. Auction companies are therefore mixing categories in order to appeal to a greater diversity of interests and buyer profiles and to promote market flexibility and optimize their sales."
By bringing works from different periods of creation, Christie's intends to adapt to "the evolution of market demand and the collection habits of its customers". A Christie's press release also states that by removing art from the context of its designated movements, the company seeks to establish new stylistic connections, to approach subjects such as race and revolution from a new angle and to make way for an amplification of voices that have been historically overlooked and undervalued.
Almost 21st century…
In concrete terms, Christie's wants to adopt a more detached nomenclature that will in effect disconnect works created 60 – 80 years ago from the "Contemporary" field and introduce a more "holistic" vision of artistic creation. A 20th Century Art sale could therefore contain works by the the major signatures in Impressionism, the champions of Abstract Expressionism and market stars like Pablo Picasso and Andy Warhol. From Claude Monet to Joan Mitchell… from Douanier Rousseau to Wayne Thiebaud… Why not? There could be some spectacular comparisons…
However, according to Christie's new methodology, not all 20th Century creation will end up in 20th Century Art sales. Works created after 1980 will be included in 21st Century Art sales… because the auction house considers that the work of artists like Jean-Michel Basquiat, Martin Kippenberger, Koons, Christopher Wool (among others) who emerged in the 1980s is so different from what was created before that it deserves to be integrated into the 21st Century category.
While there are plenty of arguments to support this new nomenclature, in practice the division will generate a number of contradictions. For example, the division will only apply to Christie's "prestige" evening sales whereas its "day sales" will continue to operate under the old regime. Could the restructuring of Christie's sales be the first step towards a possible restructuring of its departments ("Impressionist & Modern Art" and "Post-War & Contemporary Art") which, even if they communicate with each other, each have specific issues?
In any case… the good news for the market is the return of major sculptures by the likes of Damien Hirst, Urs Fischer, Louise Bourgeois, Martin Kippenberger and the integration of NFTs in the major sessions titled "21st Century Art" and "Post-war & Contemporary art".
21st Century Art sale: a Basquiat vanity… and NFTs
Recent works by 'red chip' and digital creators will be offered alongside works by the world's most established 'blue chip' Contemporary artists. So we will see some of the hottest signatures of the "current" market like Jordan Casteel and Jonas Wood alongside "fundamentals" by Martin KIPPENBERGER, Louise Bourgeois, Christopher WOOL and, above all, Jean-Michel BASQUIAT, whose immense skull painting should fetch at least $50 million on 11 May.
Titled In This Case, Basquiat's two-metre canvas created in 1983 will be the centerpiece of Christie's prestige sale dedicated to "21st Century Art". The work is from a series of three vanities, one of which already made Basquiat the first Contemporary artist to exceed $100 million at auction after it was acquired by the Japanese collector Yusaku Maezawa for $110.5 million at Sotheby's in 2017.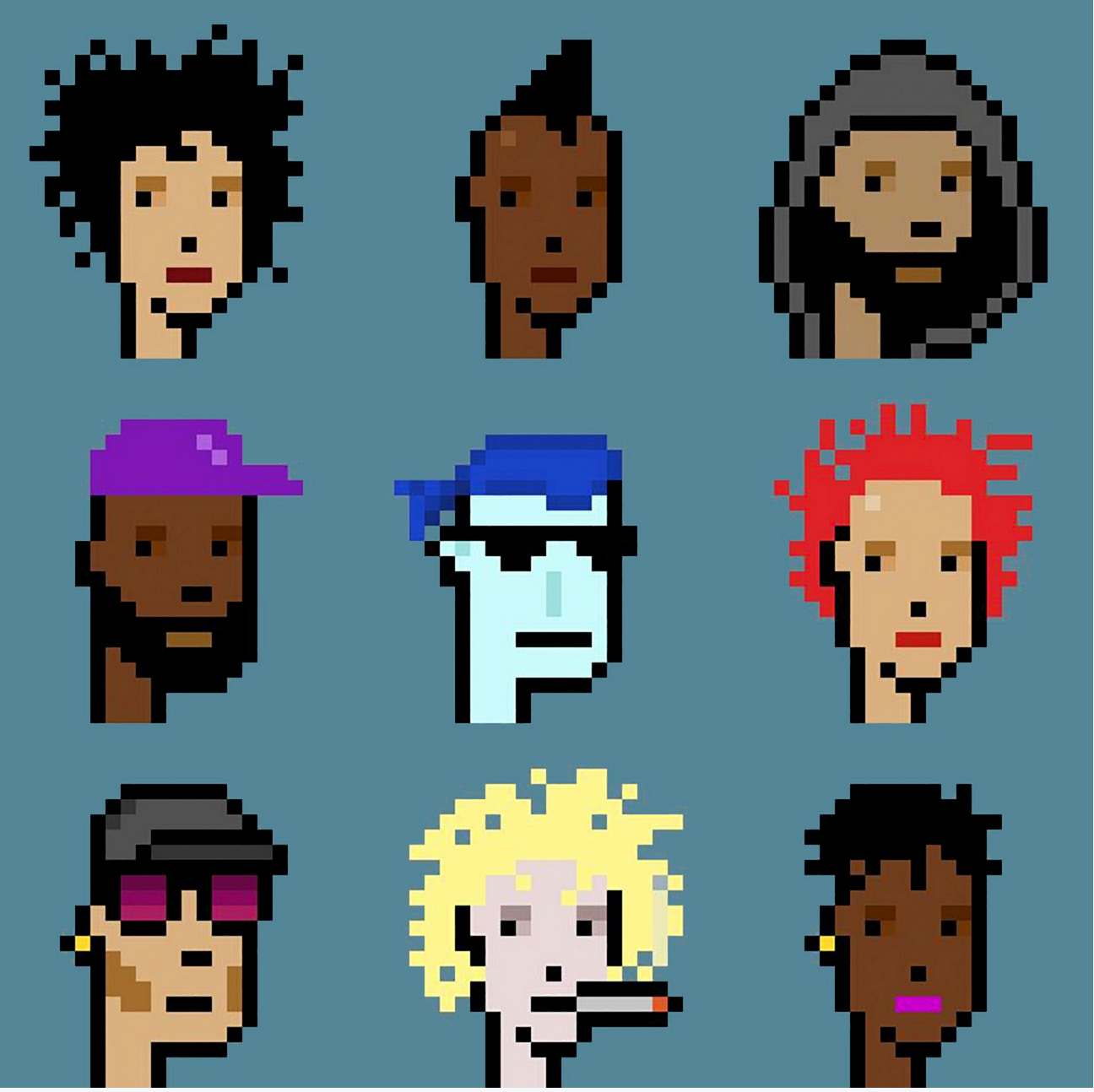 Among the most expensive works in this sale is also a series of 9 CryptoPunks from LARVA LABS (image beside). The $7 – 9 million estimate for these 24 x 24 pixel NFTs (image beside) places their value above that of Louise BOURGEOIS' superb Spider V and Richard PRINCE's hypnotic Nurse, each carrying $4 – 6 million estimates.
The sale, last January, of a CryptoPunk for 605 Ethers (ETH) ($762,000 at the time) already triggered a flurry of media commentaries. This time around, the $7 – 9 million estimate for five works suggests that the value of a single CryptoPunk has doubled in three months…. but since January we've had Beeple's extraordinary result at $69 million.
After this high-end sale of 39 lots, Christie's Post-War & Contemporary Art sale on 14 May will be particularly dense with works by more than 120 artists from the 1940s to the Ultra-Contemporary. The sale will including five NFTs from the REWIND COLLECTIVE: Remember Us IV (Watch Your Head), the estimates for which have not been disclosed. Tokenized on 25 April 2021, these NFTs are clearly the "freshest" (i.e.most recent) works in these May sessions… and freshness now seems to be a prime quality on the auction market…
20th Century Art sale: $180 million expected from four lots…
Enthusiasts of classical art will have plenty to inspire them in Christie's 20th Century Art sale, offering 50 lots in a more eclectic approach than the usual "Imp/Mod" auctions. Among the 50 works (all worthy of major museums) the estimates for four works by Picasso, Rothko, Monet, Mondrian have not been disclosed. Based on the price evolution of these works (or very similar canvases), we calculate their overall value at around $180 million. Below is a brief value analysis of these four masterpieces.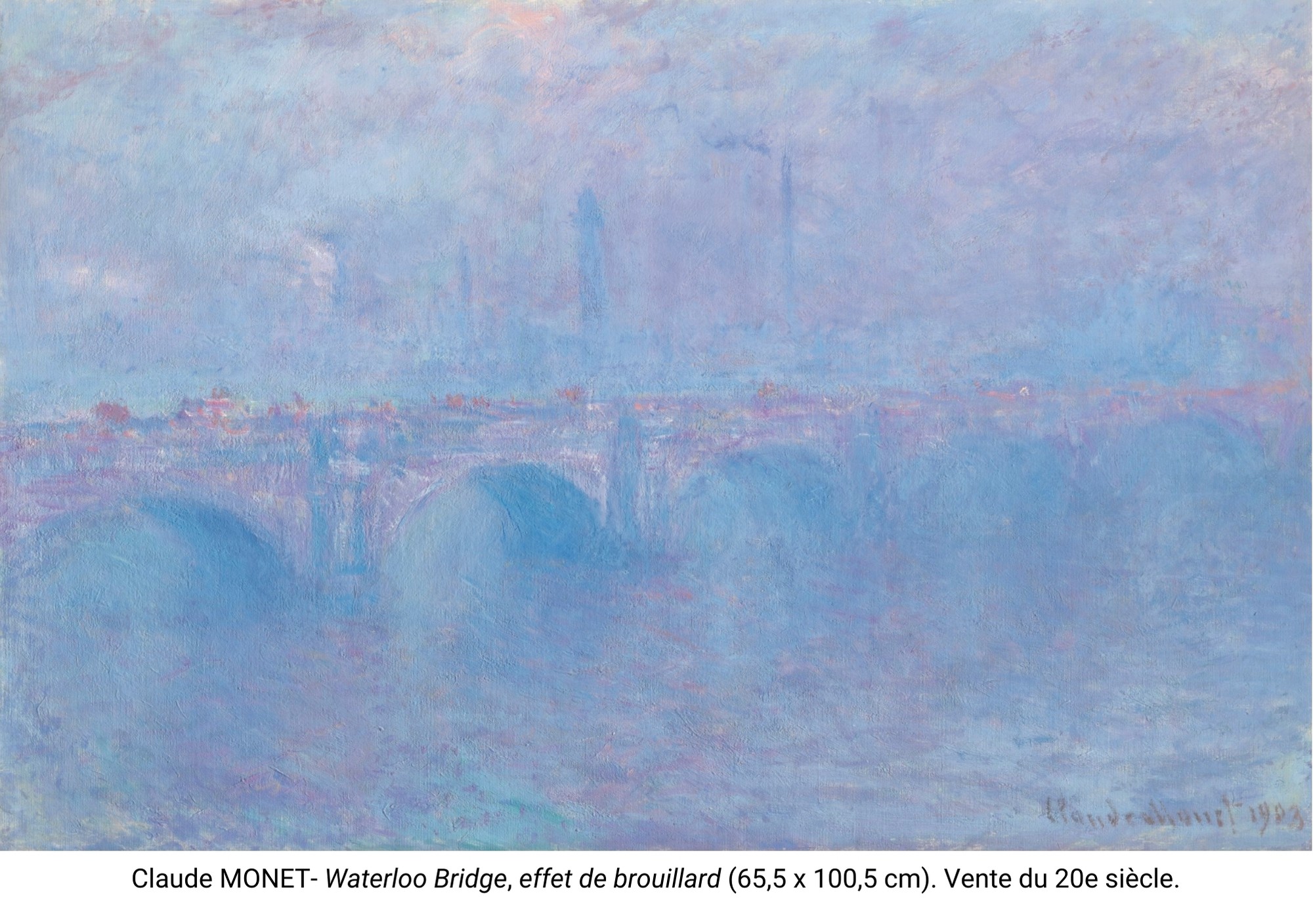 PICASSO – Femme assise près d'une fenêtre (Marie-Thérèse)
Painted in Picasso's most sought-after year of creation (1932), this flagship work, almost five feet high, should sell for around $55 million.
> When it first appeared at Christie's in 1997 it fetched $7.5 million; in February 2013 it reached $45 million at Sotheby's London,
MONET – Waterloo Bridge, effet de brouillard (65.5 x 100.5 cm)
> Previously sold at Sotheby's in 1999 for $9.3 million and having remained in the same collection since then, this work should, a priori, exceed $35 million as the last Waterloo Bridge by the Impressionist master reached $35.5 million in 2007 (Christie's London).
MONDRIAAN – Composition: No. II, With Yellow, Red and Blue
> In 1993 this painting sold for just $800,000 at Sotheby's New York (#ID 285358). However, the last abstract Mondrian canvas of this quality exceeded $50 million at Christie's in 2015 (#ID 9209289).
ROTHKO – One of his last colorfields…
> A vibrant mauve and black canvas produced in 1970 shortly before the artist put an end to his life. Previously sold at Sotheby's in 2014 (#ID 8823351) for nearly $40 million, it will be interesting to see if the market will up the ante this time.