While Old Master Paintings are changing hands at the London auctions, collectors can simultaneously find a broad selection of Old Master paintings on the Artprice marketplace.
[29/06/2005]

 

The Artprice marketplace currently has 243 Old Master paintings on offer at an average price of EUR 94,110. Although pre-19th Century paintings only represent 3% of the works on offer on Artprice's standardised marketplace, the selection is of a very high quality.

Among the most interesting works to be found is an important oil-on-panel by Willem Claesz. HEDA for EUR 1,000,000. On 8 July, Christie's will be offering an oil-on-panel still-life by the same artist at an estimated price of between GBP 70,000 and GBP 100,000. There is also a major work by Bruno COTÉ for EUR 550,000 offered on one of the recently-opened Artprice Stores. Concomitantly on 5 July, Sotheby's will be offering a landscape dated 1739 at its "Old Master Paintings" auction. Collectors of Francesco GUARDI's works who do not manage to acquire one of his seven works for sale between 5 and 8 July in London may be interested in his 1785 painting, with an architectural theme, offered at EUR 275,000 by the SvKuS Gallery on Artprice.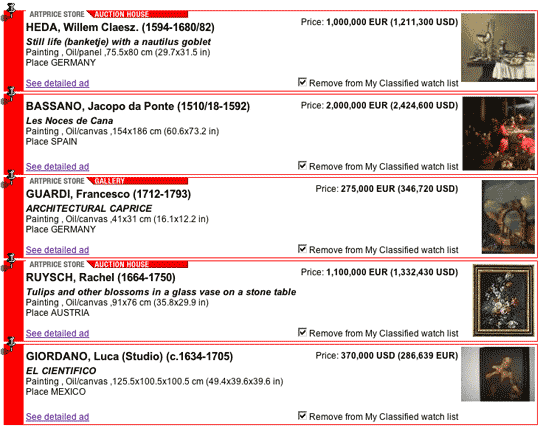 In a lower price bracket, both the UK auction houses and Artprice are simultaneously offering interesting works by Pierre Alexandre WILLE, Jean-Baptiste GREUZE, and Jean-Baptiste LEPRINCE.
Among the Artprice Stores that are regularly offering this type of work, collectors may wish to visit New-York-City-Fine-Art, FineArt2Buy, pierson or Patrimonial-issues-and-save.