The most popular artists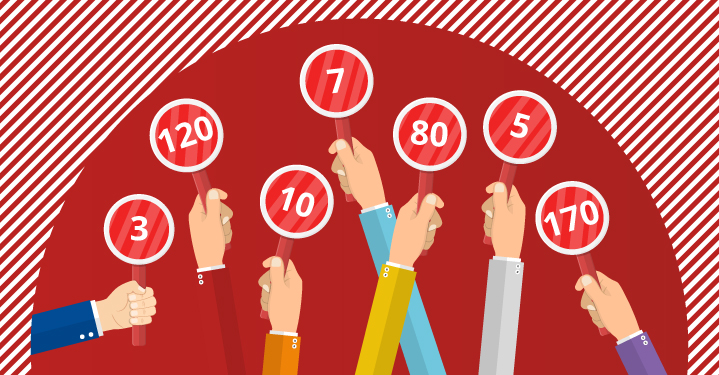 In the 2020/21 period, almost 102,000 Contemporary artworks changed hands in auctions around the world, an increase of 34% compared with the 2018/19 period (i.e. before the pandemic). The increase in demand is particularly impressive compared with twenty years ago: the number of Contemporary works sold has multiplied by 10! This market surge is partly due to the extraordinary popularity of just a few artists.
Top 3 Contemporary artists by number of lots sold at auction (2020/21)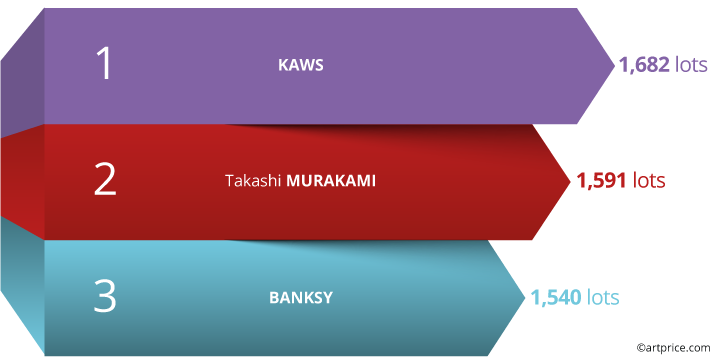 → Together, Kaws, Murakami and Banksy account for approximately 5,000 lots per year that represent 4.7% of the total number of Contemporary Art transactions. They essentially reflect the most popular aesthetics of our time: Street Art and Manga. Their success has been further amplified with the arrival of new online buyers and they all have one thing in common: they cover all price ranges and are extremely prolific in creating 'multiple' works.
With each artist selling more than 1,500 works through auctions per year (excluding their own distribution networks or those of their galleries), Kaws, Murakami and Banksy constitute the three most popular artists in the world by number of lots sold.
Kaws (b. 1974)
Collected by stars including Justin Bieber and Pharrell Williams, KAWS is a pop and urban culture phenomenon who has developed his own collaborations (Kanye West, Dior, Nike, Sesame Street, Uniqlo …) and his own personal and unique network of fans and clients. Followed by 3.4 million followers on Instagram, Kaws reaches all types of buyers, from the most discerning collector to t-shirt enthusiasts. The 1,682 works exchanged in 12 months make him the best-selling Contemporary artist on the planet! Half of the turnover generated by this volume of sales comes from multiples (prints and edited objects) in a price range varying from a few hundred dollars to more than $100,000; the rest is essentially from works on canvas, which reach several million dollars.
Takashi Murakami (b. 1962)
Takashi MURAKAMI has managed to merge Art and commerce with extraordinary optimism. The artist has even become a 'production machine' with his own company, Kaikai Kiki Co, that creates unique works, limited series, animated films and all kinds of derivative products. The most popular visual artist of our time collaborates regularly with singer Billie Eilish (who has 88.3 million followers on Instagram…) thereby continually increasing his popularity among young people. In terms of volume, this past year has been his best ever with 1,591 lots sold. The majority (87%) of the lots sold are prints that sell in a wide range of prices so that everyone can find something. Highly in demand, his works have a sold-through rate of 87%.
Banksy (b. 1974)
With phenomenal popularity and exponential demand: BANKSY already posted a record for the previous year with 900 lots sold. In 2020/2021 his market further accelerated with an impressive 1,540 lots sold at auction. The anonymous British Street artist seems to have ridden unscathed over the health crisis, and with 11 million subscribers on Instagram, he is already reaching future generations of collectors.