SCOPE NEW YORK
(07/03/2019 - 10/03/2019)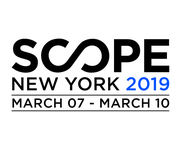 SCOPE NEW YORK
Metropolitan Pavilion
125 W 18th Street
10011
Nueva York
Estados Unidos
SCOPE NEW YORK
7 - 10 MARCH 2019
METROPOLITAN PAVILION
SCOPE NEW YORK RETURNS FOR 19TH EDITION DURING ARMORY WEEK
The 19th edition of SCOPE New York returns to its Chelsea location at Metropolitan Pavilion. Known for presenting groundbreaking contemporary work, SCOPE New York will welcome 60 international exhibitors at its centrally-located venue. In addition, SCOPE will continue its legacy of critically-acclaimed VIP Programming with strategic partnerships, a focused schedule of events, and talks.
The first fair to run concurrent with The Armory Show, SCOPE New York's spirit of innovation has consistently forged the way for emerging artists and galleries. Attuned to nuances in the market and itself an influential force in the cultural sphere, SCOPE continues to usher in a new vision of the contemporary art fair.
SCOPE New York 2019 opens on Thursday, March 7, 2019, with the Platinum First View and VIP & Press Preview, and will run through Sunday, March 10, 2019.
LOCATION
METROPOLITAN PAVILION
125 West 18th Street
New York, NY 10011
VIP OPENING SCHEDULE
Platinum First View
Thursday, 7 March, 3:00 p.m - 6:00 p.m.
Platinum Cardholders or by Invitation
VIP | Press Preview
Thursday, 7 March, 6:00 p.m - 9:00 p.m.
VIP Cardholders and Accredited Press, or by Invitation
PUBLIC SHOW HOURS
Friday, 8 March, 11:00 a.m - 8:00 p.m.
Saturday, 9 March, 11:00 a.m - 8:00 p.m.
Suday, 10 March, 11:00 a.m - 7:00 p.m.
ADMISSION
Platinum First View | Thurs | $150
General VIP | Thurs | $100
Public | Fri – Sun | $25
Senior + Student* | $15