Editorial by thierry Ehrmann
CEO and founder of Artprice by Artmarket.com
The Art world in 2021
All in all, the Contemporary Art auction market saw its global turnover contract -34% over the 2019/2020 period as it rushed to stop the hemorrhage caused by the "panic" of March 2020 and the complete stoppage of auctions. Fortunately, the subsequent organization of online sales offset the closure of galleries and auction rooms and the recovery that followed this past year (end-June 2020 to end-June 2021) has taken the global Contemporary Art Market to a new all-time high, both in terms of turnover and transaction density.
With the help of strategies offering a large number of works at relatively affordable prices, Contemporary creation has withstood this crisis better than any other creative period. Photography and prints have been particularly successful in this new online environment and in 2021, we have seen the sensational arrival of completely dematerialized artworks, the famous NFTs. Meanwhile, the extraordinary prices obtained for artworks by very young artists have profoundly transformed the entire Art Market landscape.
But one of the biggest changes – predicted by Artprice for many years – is the tremendous opening of the Art Market to the East. This year, Hong Kong has effectively established itself as the world's second city for Contemporary Art after New York. The eye-watering results hammered in the former British colony are based on a series of excellent initiatives taken by Christie's, Sotheby's and Phillips, whose Hong Kong sessions are far more audacious than in the past. The results have been remarkable, not only for Western artists as highly regarded as Jean-Michel Basquiat and Richard Prince, but also for Ultra-Contemporary creations. In effect, Hong Kong is now playing an accelerator role for the most prominent young Western artists and it is establishing itself as New York's primary competitor for the promotion and sale of Contemporary and Ultra-Contemporary Art.
Artprice is proud to present this latest exclusive report focusing on the latest evolutions in a Contemporary Art Market that is seeing buying and selling habits transformed, the very notion of "collecting" being fundamentally shaken by NFTs, and Art history itself somewhat fitfully evolving towards greater inclusion and diversity… These changes are as radical as they are unavoidable!
Two price indices: Contemporary Art vs. the Artprice Global Index (base 100 in January 1998)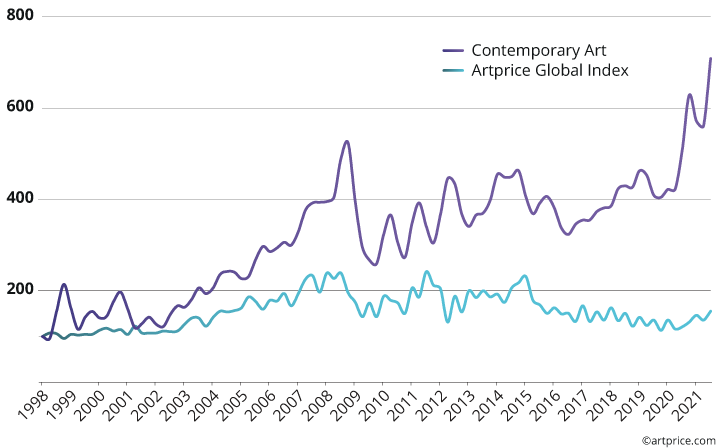 The Contemporary Art price index soared to an all-time high at the beginning of summer 2021. The price increase for Contemporary Art is now around +400% since the early 2000s, making it the most dynamic and profitable segment of the Art Market. Its growth is clearly more impressive than that of the Post-War segment, whose price index rose less than half as much (+178%) over the same period.
Índice
Editorial by thierry Ehrmann