The "Black Renaissance" in full swing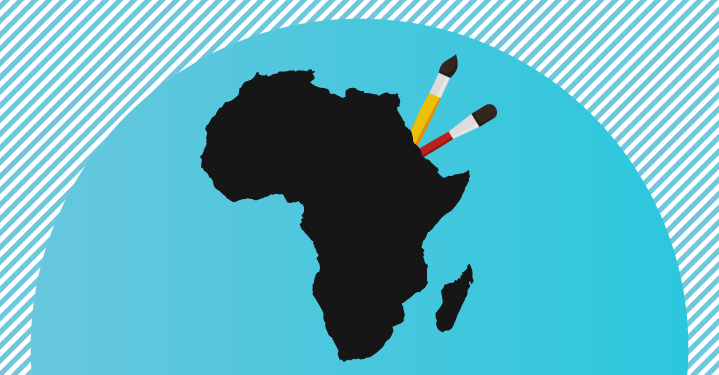 The remarkable rise of non-white artists is continuing to gather pace in a global phenomenon that is transforming the landscape of the major museums, art fairs, private collections and the entire Art Market.
For several years now, Artprice has been highlighting the growing inclusion and focus on Afro-American and Afro-British Art and Art from the African continent. From an institutional perspective, this focus has taken the form of a long overdue correction since only 1.2% of the artworks kept in American museums were made by African-American artists, according to a study conducted in 2019 by the Williams College.
Faced with the reality of this under-representation, several American museums have revised their recruitment strategies to include black men and women on their boards of directors. And following the demonstrations linked to the All Black Lives Matter movement during the summer of 2020, the objective of diversification has become more pressing than ever. Having become an institutional priority, the recognition of black artists has triggered a strong increase in demand for their works, which is of course reflected in their prices.
Top 10 Contemporary artists born in Africa by auction turnover (2020/21)
Artist
Counrty of birth
Gallery
Auction turnover
Lots sold
Top auction result
1
Amoako BOAFO (b. 1984)
Ghana
Mariane Ibrahim
$11,500,041
33
$1,146,818
2
Marlene DUMAS (b. 1953)
South Africa
David Zwirner, Zeno X
$5,437,592
53
$3,145,106
3
William KENTRIDGE (b. 1955)
South Africa
Marian Goodman
$4,691,690
188
$936,164
4
Toyin Ojih ODUTOLA (b. 1985)
Nigeria
Jack Shainman
$2,190,212
8
$832,748
5
Njideka Akunyili CROSBY (b. 1983)
Nigeria
Victoria Miro, David Zwirner
$1,412,249
2
$1,330,349
6
Kudzanai-Violet HWAMI (b. 1993)
Zimbabwe
Tyburn Gallery, Victoria Miro
$1,319,104
6
$486,746
7
Otis Kwame Kye QUAICOE (b. 1990)
Ghana
Roberts Projects
$1,199,071
9
$250,000
8
Dylan LEWIS (b. 1964)
South Africa
Everard Read
$940,133
32
$124,120
9
Michael ARMITAGE (b. 1984)
Kenya
White Cube
$643,579
2
$574,279
10
Chéri SAMBA (b. 1956)
Congo
magnin-a
$440,017
24
$60,856
© artprice.com
The phenomenon took off in 2016 with the first 7-digit auction result for a work by African-American artist Kerry James MARSHALL – "Plunge" (1992) – which fetched $2.16 million, at Christie's New York. Two years later, Marshall crossed the $20 million threshold with Past Times (昔日) (1997) fetching $21.1 million at Sotheby's New York. In her work published earlier this year (A Black Gaze. Artists changing how we see), Tina Campt says that Marshall embodies what she calls a "black artistic Renaissance". For Campt it's an artistic, social and political renaissance that is shaping a good number of public and private collections and is accompanied by an 'economic emergence' on the Art Market.
Today, a large number of young artists are seeing their works being snapped up at very substantial prices. Our ranking of the ten best-performing African-born artists at auction reveals that the forty and thirty year-old artists supported by solid galleries are breaking through much more quickly than their elders.
Njideka Akunyili CROSBY (b. 1983)
A young painter of Nigerian origin, the prices of CROSBY's paintings soared after her exhibition at the Victoria Miro gallery in London in October 2016. In 2017, she galvanized bidding with a painting of her sister titled The Beautyful Ones that fetched $3 million at Christie's from a well-known equal rights activist, Peggy Cooper Cafritz. Initially enjoying strong buying in America, the demand quickly spread to the rest of the world. In May 2017, Christie's Hong Kong hammered over $900,000 for her canvas Tea Time In New Haven, Enugu. The market for her work has since calmed down with very few works offered publicly (only four since 2020). Her galleries Victoria Miro and David Zwirner are reserving her works for "serious" collectors who promise not to use auctions for speculative purposes.
Amoako BOAFO (b. 1984)
At 36, the Ghanaian painter is one of the most in-demand artists of the moment. His ascension (in popularity and price) began in December 2019 during a solo show at the Mariane Ibrahim gallery at Art Basel Miami. His colorful portraits celebrating black identity sold for $50,000 at the time. The following year, the value of these works multiplied by ten. In February 2020, Phillips presented his first painting at auction – The Lemon Bathing Suit – and it sold for the exorbitant price of $881,500 against a pre-sale estimate of $40,000 – $65,000. This extraordinary result looked initially like a flash in the pan, but it wasn't. In December 2020, his painting Baba Diop soared to $1.14 million in Hong Kong, propelling Boafo into the ranks of the most popular Contemporary African artists of the moment.
Michael ARMITAGE (b. 1984)
Michael ARMITAGE's canvases began to attract attention when they first appeared at the White Cube in London in 2015. In the same year, he participated in various group exhibitions in New York, Beijing, Turin and Lyon. In 2018, the Metropolitan acquired his canvas Necklacing from the White Cube. The painting refers to a common lynching practice in South Africa in the 1980s. A few months later his works caused a sensation at the 58th Venice Biennale and at the MoMA, while his "The Conservationists" (2015) reached $1.52 million, i.e. 25 times the mid-range estimate provided by Sotheby's New York. Arriving on the market at the height of demand for African painting, this Kenyan artist is one of the new stars of the Art Market.
Toyin Ojih ODUTOLA (b. 1985)
This artist from Nigeria explores black identity in Africa and the United States, where she moved when she was five.Toyin Ojih ODUTOLA has already integrated the permanent collections of MoMA, the Whitney Museum and the Art Institute of Chicago, and is among the 550 most successful artists at auction, all periods combined. Making her auction debut three years ago, her personal best already stands at $833,000 for a sixty-foot drawing exhibited in 2016 at the Museum of the African Diaspora in San Francisco. The work was sold at Sotheby's Hong Kong on 19 April 2021.
Otis Kwame Kye QUAICOE (b. 1990)
Particularly talented with portraits and influenced by the fathers of the "Black Renaissance" such as Kerry James Marshall and Kehinde Wiley, the Ghanaian artist Otis Kwame Kye QUAICOE was launched on American soil in 2020 with an exhibition titled Black Like Me at Roberts Projects in Los Angeles. His works were immediately acquired by major private collectors. On 2 July of the same year, Phillips hammered the young artist's auction debut with a work titled Shade of Black (2018). Estimated $20,000 – $30,000, the painting reached $250,000. Since then, all his works offered at auction have sold, without exception.
Kudzanai-Violet HWAMI (b. 1993)
Selected among the artists representing Zimbabwe at the 58th Venice Biennale in 2019, Kudzanai-Violet HWAMI (born 28 years ago in Zimbabwe and living in London) is gaining popularity on the international Art Market. On 19 April 2021, her black odalisque Skye waNehanda (i) 斯凱·威尼漢達 (180 x 230cm) caused an auction sensation by fetching $487,000, more than 10 times its low estimate at Sotheby's Hong Kong. Purchased four years earlier from the Tyburn gallery, this painting has already changed hands four times… Alongside the urgency to 'legitimize' a work committed to the deconstruction of stereotypes and relations of domination, these very rapid resales illustrate the market's hyper-enthusiasm for artists perceived as key players in the "Black Renaissance".
Indeed, in addition to museums, the so-called "Black Renaissance" is now being promoted by most international art galleries resulting in a very significant increase in demand in North America, on the African continent, in Asia and in Europe. Kerry James Marshall has been promoted by David Zwirner since 2013. Njideka Akunyili Crosby and Noah Davis have received the same support for two or three years, while Amy Sherald, Lorna Simpson, Mark Bradford, Henry Taylor and Simone Leigh are all associated with Hauser & Wirth. After launching Amoako Boafo, Victoria Miro has signed one of the youngest stars of the moment: Kudzanai-Violet Hwami (28 years old).
In this context, a number of young artists have thus become 'essential' overnight. Among those who have attracted the most attention this year are Jammie Holmes and Cinga Samson. Both were born in the mid-1980s, the first in Louisiana and the second in Cape Town. In May 2020, the self-taught painter and 'committed' artist Jammie HOLMES sent banners into the skies of Dallas, Detroit, Miami, Los Angeles and New York on which floated George Floyd's last words to honor his memory and denounce violence and systemic racism. The initiative was highly successful and collectors became enamoured: all his paintings now sell for more than $100,000 and his record has peaked at $193,000 since the end of May 2021 (First birthday, 2020, Christie's Hong Kong). Cinga SAMSON, born in Cape Town, is nevertheless more expensive with a result of $378,000 for his painting Two piece 1 (2018) against an estimate of around $30,000. It was hammered just one month after the official announcement of his joining the prestigious White Cube Gallery, which pushed demand to a new height and prompted collectors to 'gamble' on the young prodigy. Cinga Samson's work explores two of the most sought-after subjects of the moment: Africaneity and sexual identity. Seductive and sophisticated, his paintings reflect above all the influence of artists like Kerry James Marshall, Kehinde Wiley, Toyin Ojih Odutola and Lynette Yiadom-Boakye, whose portraits of black men and women are changing Art history.
In conclusion
Collectors have been very attracted to the works of these young creators, immediately propelling them into a 6-digit auction sphere despite the veritable wave of black artists currently flooding the entire international Art Market. Indeed, it would be difficult to deny that this segment of the Art Market looks over-heated, but the potential appears to be colossal and demand just keeps on growing. This dynamic applies to all the artists of the "Black Renaissance", including Jordan CASTEEL (born in 1989), the youngest artist to be offered a retrospective at the New Museum in New York, but it also seems to apply to all the major "trends" currently driving the Contemporary Art Market.
The trio of the three most successful artists in their thirties seems to perfectly reflect the preferences of our time. First in the ranking, MR DOODLE (born in 1994), associated with Street Art with his invasive "spaghetti graffiti" which is all the rage in Japan, Hong Kong and Taiwan. Considered by some the 'new Keith Haring', a 'mad wind' is currently blowing in his sails (and sales) with transactions accelerating to more than 300 units over 12 months, including several dozen works on the Japanese market during H1 2021 in a price range from $3,000 to over $300,000.
Top 3 young artists (born after 1992) by auction turnover (2020/21)
Artist
Auction turnover
Lots sold
Lots not sold
Top auction result
1
MR DOODLE (b. 1994)
$8,082,271
308
13
$1,029,287
2
Jadé FADOJUTIMI (b. 1993)
$2,334,397
13
0
$730,692
3
FEWOCIOUS (b. 2003)
$2,162,500
5
0
$475,000
© artprice.com
The second artist of this generation to inflame the market is a woman: Jadé FADOJUTIMI (born in 1993). The dynamic and instinctive abstractions of this rising star of the London scene have already integrated numerous museums and large private collections – at just 27 years old, she is the youngest artist to enter the Tate collection and the market for her works has of course co-responded. Of the 13 works on sale since then, none have remained unsold and one of them fetched over $730,000 at the joint Phillips & Poly sale in Hong Kong in June (Concealment: An essential generated by the lack of shade, 2019).
The third artist is a child of our digital era, Victor Langlois, alias FEWOCIOUS. Born in 2003, he created his first NFTs at age 17. The youngest artist to ever sell through Christie's, he generated $2.1 million from five NFTs offered online at the end of June. This enormous and early success reflects, on the one hand, the formidable breakthrough of the digital sphere within traditional auction houses and, on the other, the seduction of a style that is simultaneously Surreal and owes much to Pop Art and Bad painting. But that's not all: FEWOCiOUS is also a young Queer artist who is questioning gender identity. Along with the key players in the "Black Renaissance" (mentioned above), he is perceived as one of the pioneers who are reconfiguring our vision of society and the world… and that new collectors have decided to no longer neglect.
Índice
The "Black Renaissance" in full swing